Baby teething is a time of discomfort for parents and babies alike. I can vividly remember when my daughter was teething because of the worry it caused me as a new mom, and the pain her tender gums clearly caused her.
For new parents, it's difficult to know what to do, what the symptoms are, or to even be sure if teething is what's causing your baby's discomfort in the first place.
To get some reliable information about teething symptoms and remedies to share with you, I recently researched the topic and interviewed Dr. Lyndsey Garbi, the Chief Pediatrician of Blueberry Pediatrics.
From that interview, I created this short guide to help you identify the signs of teething, know what remedies are safe, and help you soothe your teething baby.
Dr. Garbi is a board-certified Pediatrician and Neonatologist who graduated from Emory University and attended the Sackler School of Medicine. She loves working in medicine and using technology to connect the parenting world with the doctor world. You can skip to the end of the article here to learn more about her and Blueberry Pediatrics.
Important note: This article is for information purposes only and is not medical advice. Any teething symptoms that don't go away, involve a significant fever, or could be linked to another condition should be checked by a pediatrician immediately.

When in doubt, always check with a pediatrician!
When Do Babies Get Their First Tooth?
Dr. Garbi explained that some babies can start teething as early as four months old, but the average is around six months of age. However, some babies can start as late as 12 to 13 months old.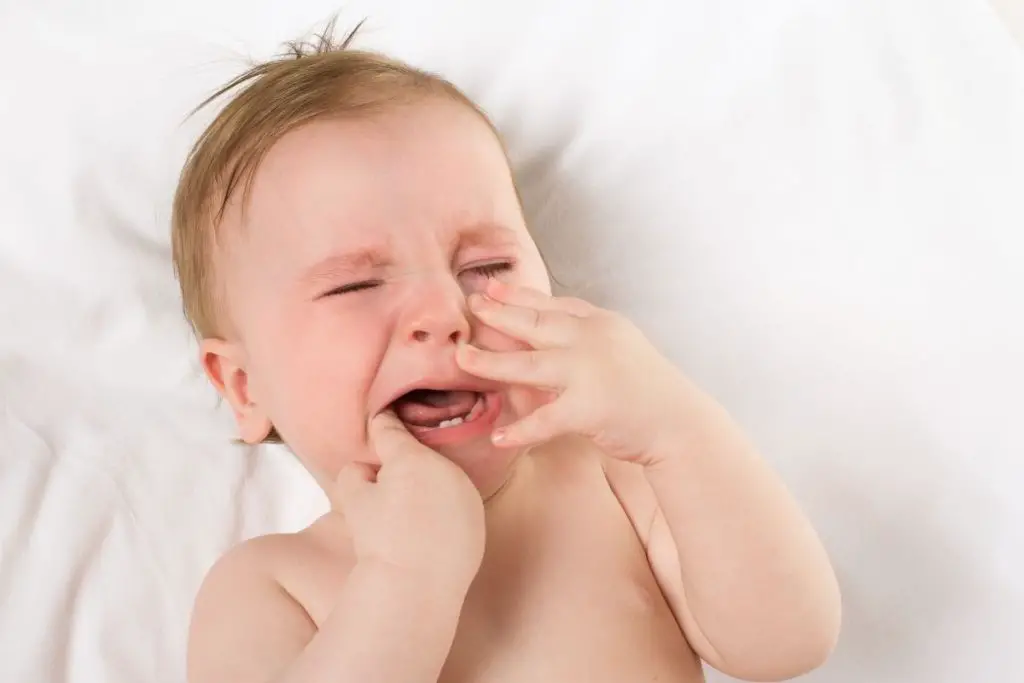 How Long Does Teething Last?
Teething symptoms can last until they are age three, Dr. Garbi explained, but you don't have to worry about constant symptoms.
"It will wax and wane. It doesn't arrive and stay – that would be torture! Usually, as they get older, it's not as big a burden," She said.
What Order do Baby Teeth Come In?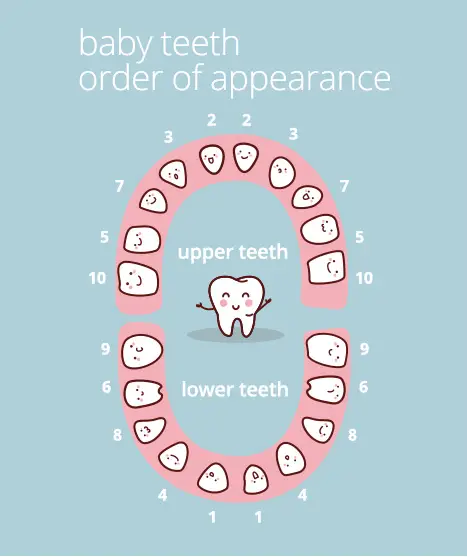 Here is a handy list showing how babies' teeth usually emerge, from the NHS (United Kingdom National Health Service) website:
bottom incisors (bottom front teeth) – these are usually the first to come through, usually at around 5 to 7 months
top incisors (top front teeth) – these tend to come through at about 6 to 8 months
top lateral incisors (either side of the top front teeth) – these teeth appear at around 9 to 11 months
bottom lateral incisors (either side of the bottom front teeth) – these come through at around 10 to 12 months
first molars (back teeth) – these come through at around 12 to 16 months
canines (towards the back of the mouth) – these come through at around 16 to 20 months
second molars – these teeth appear at around 20 to 30 months
Most children will have all of their milk teeth by the time they are 2 1/2 years old.
What are Teething Signs and Symptoms?
Even if your little one is older than three or four months old, as a new parent it can be difficult to know when teething has begun as symptoms can show up before any new teeth can be seen.
Dr. Garbi listed the symptoms of teething as:
Restlessness,
Whining,
Discomfort,
Slight runny nose,
Excessive drooling,
Wanting to put things in their mouth all the time, and
Gnawing on their hands.
"You know teething has begun if they do these things, as well as if you see swollen gums or teeth popping through," She said.
Do Babies Get Fever When Teething?
I can remember being told by friends and family just a few years ago that fever is a part of teething—it's pervasive advice—but is it true?
It turns out, no.
"Many people believe teething causes fevers. While eruption of a tooth can cause irritability and discomfort, it does not cause a significant fever." (Friedman, 2009, p. 367).
Should Parents Seek Medical Advice or Help for Their Teething Baby?
I asked Dr. Garbi if parents should check in with their baby's pediatrician when teething starts, but she assured me it isn't usually necessary.
"It's not necessary unless you think your child is cranky for other reasons that should be ruled out," she explained.
Should Babies See a Dentist for Their First Teeth?
Since it has to do with the development of teeth, I also asked about the need to see a dentist during teething, and Dr. Garbi again said it probably wasn't necessary.
"Pediatricians usually handle most teething questions, however teeth issues, such as when they break, crack, or have trauma to them, is something dentists handle best," She explained.
The Canadian Dental Association, The American Dental Association, and the American Academy of Pediatric Dentistry all say that the first dental visit should occur within six months after the baby's first tooth eruption, and before the baby's first birthday.
Is There Any Medicine for Teething?
One question parents often ask their pediatrician is if there's any medication or pain reliever they can give their teething baby to alleviate the pain.
"Most [parents] will want to know about medications that can be used," Dr. Garbi said. "Tylenol is a good option but its use should be reserved for when really needed, not for 'just in case.'"
How to Alleviate Teething Pain at Home Without Medication
Aside from infant acetaminophen (Tylenol), there are many other remedies available that claim to soothe baby's gums like teething gels, teething rings, etc. I made sure to ask Dr. Garbi about those as well, and not all options are considered safe.
"Teething itself is not dangerous – it's natural. However, products on the market can be dangerous," she said.
Let's run down the list and take a look at each one.
Are Teething Gels Safe?
Dr. Garbi clearly indicated that Benzocaine homeopathic teething gel, which is often sold under the brand name Orajel amongst others, is not a good option for your little one.
"Benzocaine and other local anesthetics can cause methemoglobinemia, a serious condition in which the amount of oxygen carried through the blood is reduced. This condition is life-threatening and can result in death," Dr. Garbi said.
Are Baby Teething Necklaces Safe?
Teething necklaces are often a point of debate in parenting forums, with some mothers swearing by their natural ability to ease teething symptoms, and others worried about their safety .
Dr. Garbi was clear that they're just not safe or worth the risk.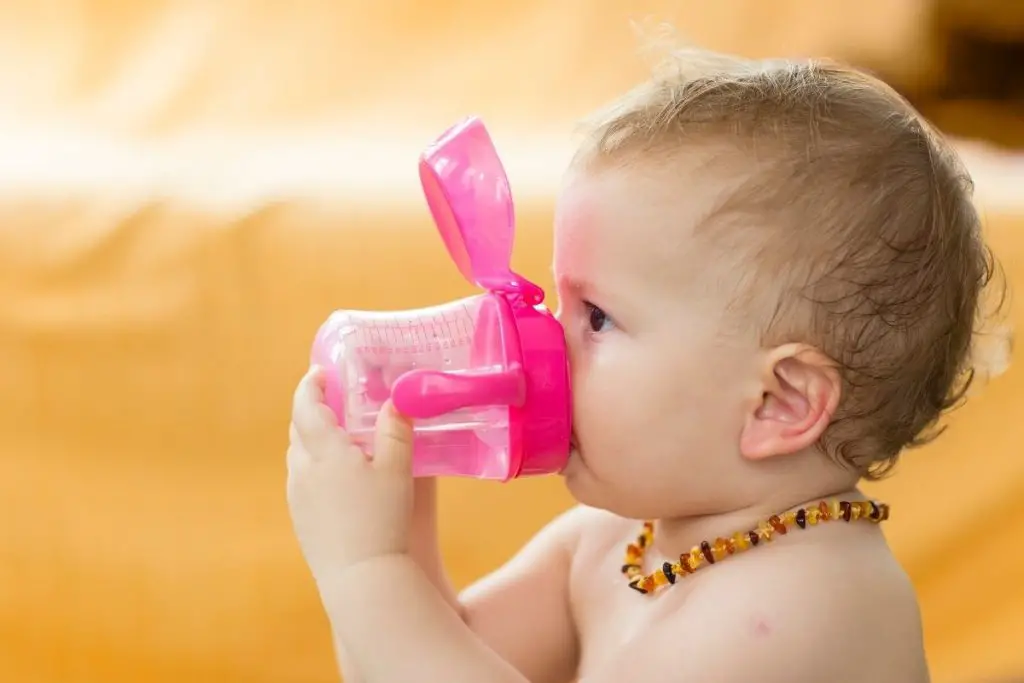 "Teething necklaces should not be worn and are a choking hazard," Dr. Garbi said. Though she did seem to come down softer on teething necklaces worn by parents.
"If worn by parents it means that the child is always being observed while they are using the necklace so it's a better option if parents really want to use them," She explained. "In general, pediatricians don't recommend teething necklaces because they pose a choking hazard to kids – beads can fall off and a child can choke on it and it can get pulled tightly around their neck.
"The FDA has received reports of serious injury including deaths due to these items, even when worn by a parent, so they must be used with caution or not at all. There is also no guarantee that what the product says is in it, is actually in it. Amber is not regulated in any way and there is no way to know if what your child is putting in their mouth is safe."
Are Mesh Feeders/Teethers Safe?
Many parents looking for a toy able to soothe a teething baby and keep that baby interested may love mesh feeders, and luckily Dr. Garbi confirmed they are safe to use if your baby can handle any large chunks of food that may fall out.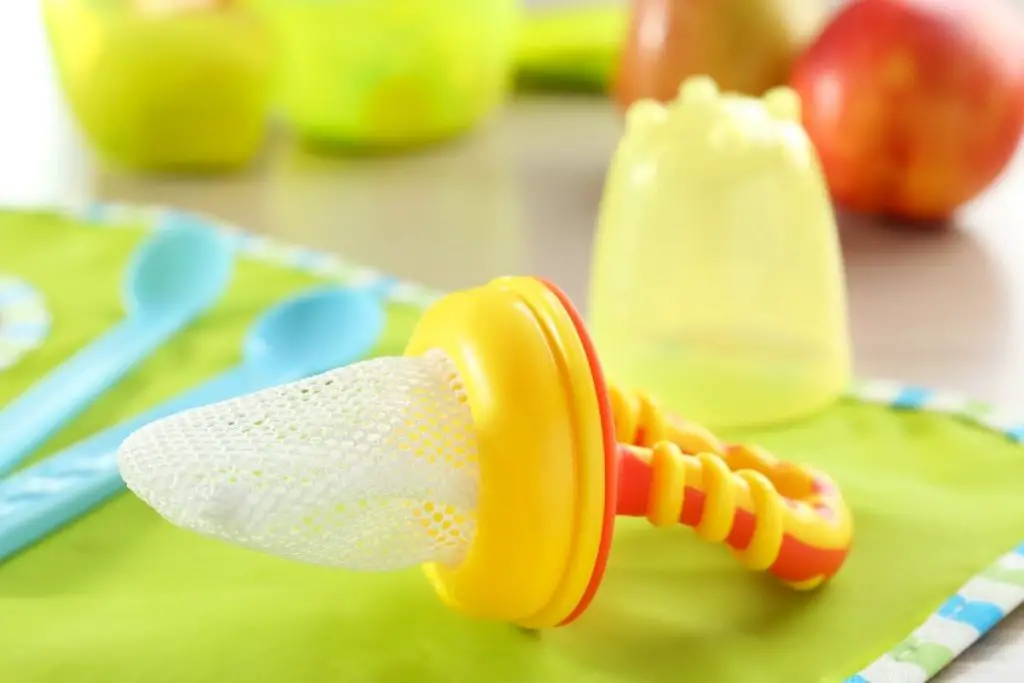 "It's important to always observe them with it because they can come apart and the child can have access to all the large pieces in it," She said.
Dr. Garbi said that she likes mesh feeders as they're a healthy alternative to a lollipop, which also helps to introduce foods. She recommended filling them with anything cold and tasty but preferably foods lower in sugar, such as strawberries.
"I'd stay away from blueberries, especially when frozen because they are a choking hazard," she added.
Are Baby Teething Rings Safe?
With all the teethers available in the baby aisle of every big box store, you'd think they are the best option, but there are some warnings with these as well.
When I asked Dr. Garbi if teethers are safe, she said they usually are, but only as long as babies are not able to choke on them. She added that if the teether has a gel inside it's incredibly important the teether is not able to be punctured and open to leak the contents out.
"It's best to avoid plastics as much as possible because the chemicals they are made of should not be eaten," Dr. Garbi said. "Silicone or wood (when made properly into a teether for kids) are great options."
What Baby Teether Does Pediatrician Dr. Garbi Recommend?
Since we were on the topic of teethers, I had to ask Dr. Garbi what the best baby teether for babies in her opinion.
"I like the Boon silicone feeder, Comotomo silicone baby teether, or anything silicone and easy to hold," she said.
How Should Teethers be Cleaned?  
While many moms like to sanitize everything (I was that mom), cleaning a teether with soap and water after their use, and if it gets dirty, is usually enough Dr. Garbi said.
"Plastic teethers should not be put in the dishwasher. Silicone usually can be put in the dishwasher," she added.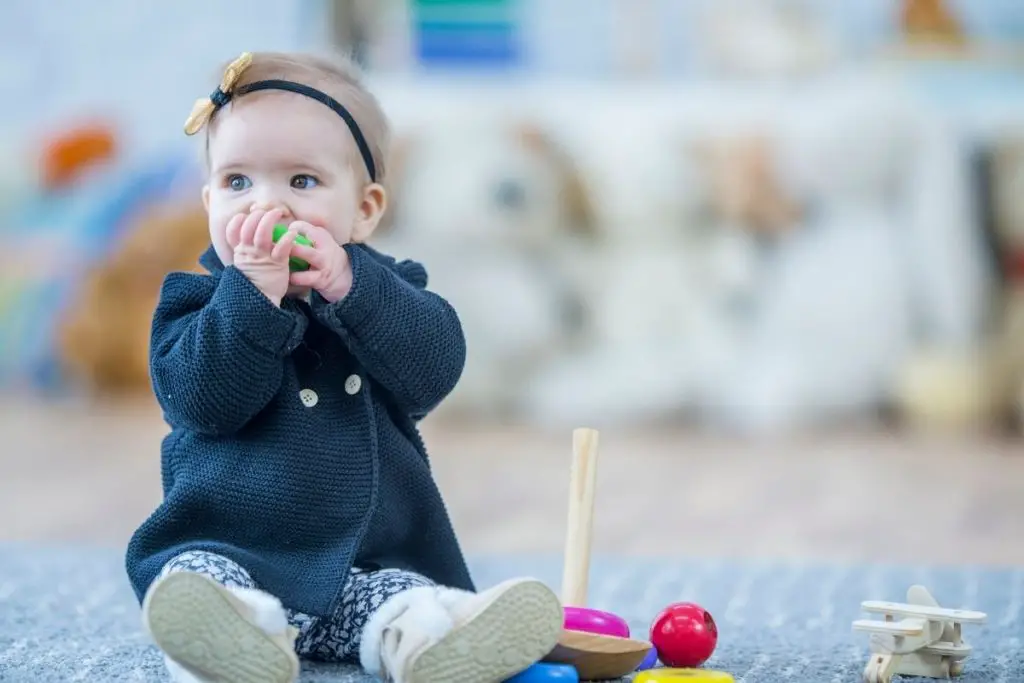 Can Babies Sleep with a Teether?
"Babies should not be sleeping with anything," Dr. Garbi said.
Final Advice for Parents with a Teething Baby
To wrap up, Dr. Garbi added that when your baby's first teeth begin to appear, don't forget to do what you can to reduce your own stress.
"It is a phase that will soon end and all kids get through it and come through it just fine," She said.
Want a Pediatrician's Help With Your Baby's Teething Symptoms? Consult With Dr. Garbi and her Blueberry Pediatrics Team
As I mentioned at the start of this guide, Dr. Garbi is the Chief Pediatrician of Blueberry Pediatrics. She is a board-certified Pediatrician and Neonatologist.
Dr. Garbi helped create Blueberry Pediatrics from the ground up to provide easy and affordable access to high-quality medical care to parents from the comfort of their homes. 
When I needed a pediatrician's help with this article, I went searching for one available for consultation and quickly landed on Blueberry Pediatrics. And to be clear, they did not contact me or sponsor this post, I literally found them through Google and asked for an interview.
I was immediately interested in learning more about Blueberry Pediatrics because I know some of our readers have a hard time getting medical advice with small concerns, especially during COVID, and I think Blueberry Pediatrics may be able to help a lot of you through their app.
Additionally, the Blueberry team created the promo code "BEGINNERS21 " (NOT an affiliate code, Dr. Garbi is just awesome) that will give anyone who uses it a free welcome kit ($100 off the welcome kit, which actually makes it really inexpensive to join).
What is the Blueberry Pediatrics App?
Blueberry Pediatrics' app gives parents peace of mind with 24/7 virtual access to board-certified pediatricians, providing immediate health care for their kids at one low cost. 
Like having a "pediatrician in your pocket," Blueberry's affordable membership makes it easy for parents to get their children quality medical care without having to go into a doctor's office – no matter the issue. From diagnosing illnesses, prescribing medication and providing advice for any concerns parents might have, Blueberry's pediatricians offer parents comfort, peace of mind, and a higher level of protection for their children.
How It Works:  
Become a Member: Once parents select their preferred membership type and create their children's profile, a call will be scheduled with Blueberry's Chief Pediatrician, Dr. Lyndsey Garbi, who will introduce the Blueberry pediatric team.
Diagnosis & Treatment: Whether it's a minor question about breastfeeding or sleep training, late-night illness, or, in rare cases, a serious enough situation to warrant an emergency room visit, Blueberry has you covered. A friendly, board-certified pediatrician will happily answer all and any questions, big and small, within 15 minutes, even in the middle of the night.
Medical Kit for Immediate Diagnoses: Using the home medical kit parents can send images and vitals with their request, so their pediatrician has the same diagnostic information they would get in an in-person exam.
---
Additional References
Manchir, Michelle. (2018, August 13) AAPD research: Don't delay early dental visit. American Dental Association. Retrieved from https://www.ada.org/en/publications/ada-news/2018-archive/august/aapd-research-dont-delay-early-dental-visit
Baby teething symptoms. (2019, February 1). NHS. Retrieved 2021, May 1 from https://www.nhs.uk/conditions/baby/babys-development/teething/baby-teething-symptoms/
Friedman, Jeremy. (2009). Canada's Toddler Care Book: A Complete Guide from 1 to 5 Years Old. Toronto, Ontario: The Hospital for Sick Children.
Your Child's First Visit. (2021). Canadian Dental Association. Retrieved from http://www.cda-adc.ca/en/oral_health/cfyt/dental_care_children/first_visit.asp