All babies use diapers (yes, even elimination communication babies).
Though they're essential, with so many brands and styles available it's hard to know which ones will work best for your family, especially if you're a new parent.
In this guide, we'll discuss everything you'll need to know about disposable diapers from the various types of disposable diapers available on the market today, to what sizes you'll need, to how much money you can expect to spend on them.
So read along and find out everything there is to know about disposable diapers!
What are the Alternatives to Disposable Diapers?
Though disposable diapers are by far still the most popular choice among parents, especially new parents, there are alternatives including:
Cloth diapers. Cloth diapers are used just like disposable diapers except they are washed and reused instead of thrown away. While this initially sounds gross to new parents, experienced parents who are familiar with disposable diaper "blow-outs" will know that washing poop is a part of every baby's care.
For more information about cloth diapers, I recommend checking out the site Cloth Diapers for Beginners here.
Elimination communication. Elimination communication (EC) is a system of tuning into your baby's signals that they are going to defecate or urinate, and making the potty their primary place to do that, right from infancy.
For more information about elimination communication, I recommend checking out the site Go Diaper Free here.
Are Disposable Diapers Better than Cloth Diapers?
For full transparency, I'll let you know here that I cloth diapered my own daughter most of the time she was in diapers and spent five years of my life creating Cloth Diapers for Beginners, a website for those interested in using cloth diapers for the first time. So, I'm more than a bit biased and think cloth diapers can save parents thousands of dollars, among other benefits.
That aside, the true answer to the question, are disposables better than cloth diapers is that it all depends on your needs. Disposable diapers are better for parents who have limited time or willingness to learn how to care for cloth diapers, or who have only limited access to laundromats. Cloth diapers are a better option if you are on a very tight budget, are very eco-minded, or if your baby has a sensitivity to disposable diapers.
With all that said, diapers don't have to be an all or nothing thing. Many parents use both disposables and cloth diapers together, because that's what works best for them. You do you too!
How to Use Disposable Diapers
Disposable diapers are fairly simple to use once you've seen it done once or twice, so here's a quick video to show you the steps in changing a diaper:
Once you've changed the diaper, you simply dispose of the soiled diaper and go about your day.
How to Choose Disposable Diapers: Consider Your Needs
If you decide to go with disposable diapers either full-time or part-time, there are some things to consider that will help you pick a box off the shelf in that long diaper aisle, including:
Cost. This can vary widely by brand, style, and even where they are purchased. Below I will talk much more about how much disposable diapers will cost you, and later I'll talk about how to find cheaper diapers.
Absorbency. This is the amount of fluid a diaper can hold. The more it holds, the less likely you'll have a leak, which would mean having to wash clothes and possibly bedding, car seats, etc.
Leak Protection. While all disposable diapers have some form of leak protection (over and above absorbency), there are differences between brands and styles, so it's worth considering your baby's unique needs like crawling, walking, etc.
Fit. The fit of a diaper is as important in preventing leaks and keeping your baby dry. A disposable diaper should not be too tight or loose around the waist, legs, or hips. You also want the diaper to sit high on the waist, and have lots of "give" in the bottom to avoid the dreaded blow-out. Though most disposable diapers are highly adjustable, your baby may have a shape that works better in one diaper over another. If you're experiencing blow-outs regularly despite using diapers for your baby's right weight range, you may need to try a different brand.
Chemical content. All disposable diapers contain synthetic materials and chemicals able to turn urine into solids or gels. With that said, some are designed for baby's sensitive skin or babies who experience diaper rash often, others are made with the environment in mind, others still just meet current safety requirements. Going for disposable diapers that are marketed as more "natural" will usually mean less harmful chemicals.
Availability. Some diapers, like Pampers or Huggies for example, are available everywhere, others are available only through subscription or at special shops. If you choose a less-readily available diaper, running to the drug store at the last minute won't be a possibility and you'll have to keep plenty on hand at all times. Having many on hand will increase the likelihood of being stuck with diapers in the previous size. But we'll talk more about sizing later on.
Umbilical Cord Cutout (Newborn Diapers Only). If you're shopping for diapers for a newborn and you don't feel comfortable folding down the top of the diaper, because hey, you have enough to worry about right now, check to make sure the diaper your considering has an umbilical cord cutout.
How Much Can You Expect to Spend on Disposable Diapers?
I have written at length about how much a baby will cost you and how to save money on those costs here, and one of the biggest costs in the first three years is diapers.
Although the average cost per diaper will vary depending on where you live, what brand you buy, and the size of package you're buying, according to Wikipedia the average cost of a disposable diaper in the US is between .20 and .30 cents each.
That may not seem like much, until you calculate how many diapers babies typically use, which for an average child is:
About 10 diapers per day from 0-6 mos (1,825 diapers),
About 8 diapers per day from 6-18 months ( 2,920 diapers), and
About 6 diapers a day from 18 months to three years (3,285 diapers).
That's about 8,030 diapers!
That's a lot of diapers!
Looking at the average cost of a diaper according to Wikipedia and using the average of $0.25 each means that disposables will cost a parent about $2,007.50 per child.
With the cost so high, it's important we buy the right ones, and the right sizes, so keep reading, and do check out our tips for saving money on disposable diapers here!
How Do You Figure Out the Right Size Diaper?
Diaper sizes are generally based on a child's weight, with the size ranging from newborn to 65 pounds and beyond.
The weight range for diapers is more of a guideline than a hard line to never cross. If your baby is just below the maximum weight on a particular size of diapers, I always recommend sizing up to avoid blow-outs.
As I mentioned above, each diaper brand will fit a bit differently, so you may want to try a few different before you get the big box at Costco.
You'll know your diaper is the right size when:
It sits right below your baby's belly button,
Both side tabs fasten symmetrically on either side, and
It fits snugly, especially around the legs. The leg elastics should sit right in the leg crease, but not dig into your baby's skin.
How Many of Each Size Should You Buy?
The number of diapers you will need in each size is going to depend heavily on your baby's own internal schedule, your baby's growth curve, and the brand/ weight ranges of the diapers you're using.
Your baby will be wetting very frequently as they nurse around the clock and have very tiny bladders in the newborn stage. You can expect to change your baby in this stage every 1.5 to two hours.
As your baby grows and the time between feeding lengthens, the number of diaper changes will decrease (though your need for absorbency will increase as they'll be letting out much more each time).
While it can be tempting to buy all the diapers you can, stockpiling boxes of each size, I don't recommend buying multiple boxes of any one size past the newborn stage.
If you have too many of a particular size and your baby goes through a growth spurt (it's not uncommon to spend just a few weeks in a size) you may be stuck with boxes of diapers you can't use.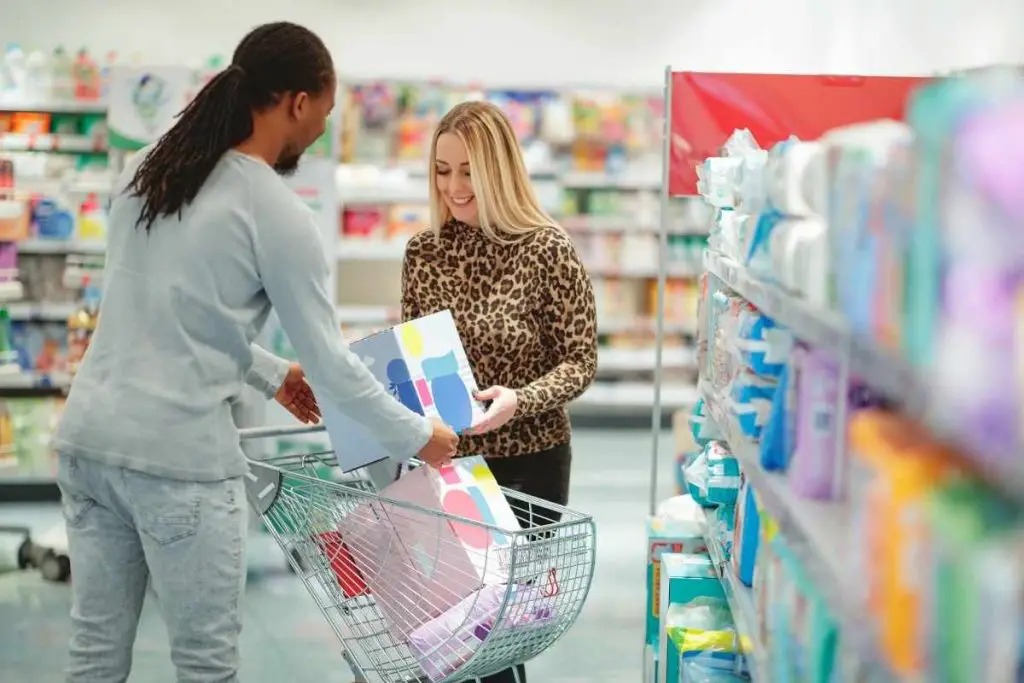 Can Disposable Diapers Expire?
If you are stuck with diapers that don't fit, keeping them for the next baby is an option. Disposable diapers don't expire, though manufacturers do recommend using them within two years of purchase (Source).
Can Disposable Diapers be Reused?
No, disposable diapers can't be reused. Unlike cloth diapers that can be reused many times, disposable diapers are single-use items.
If you're experiencing diaper need, or the lack of a sufficient supply of diapers to keep an infant or child clean, dry, and healthy, you are not alone. I encourage anyone going through this to visit the National Diaper Bank Network here.
Can Disposable Diapers be Recycled or Composted?
After you have removed the soiled diaper, you may be wondering if it can go into the recycling or compost. In most cases, no. Disposable diapers were not designed for recycling and only a handful of organic waste disposal facilities in North America can process diapers. Unless you live in one of these special areas, your disposable diapers will end up in the landfill, where they'll stay for generations.
Are Disposable Diapers Bad for the Environment?
Disposable diapers are not great for the environment. This is because of the chemicals and waste that are left behind in landfills. Disposable diapers take up a lot of space in landfill sites, where they will stay for generations emitting methane, a greenhouse gas 20 times more potent than carbon dioxide.
In fact, just 5,000 or so diapers generated by a single baby could be responsible for releasing up to 630kg of methane into the atmosphere over a 500-year period, which is how long they are estimated to take to break down (though no disposable diapers are that old yet, so it's just a guess). (Source).
What About "Eco-Friendly" Disposables?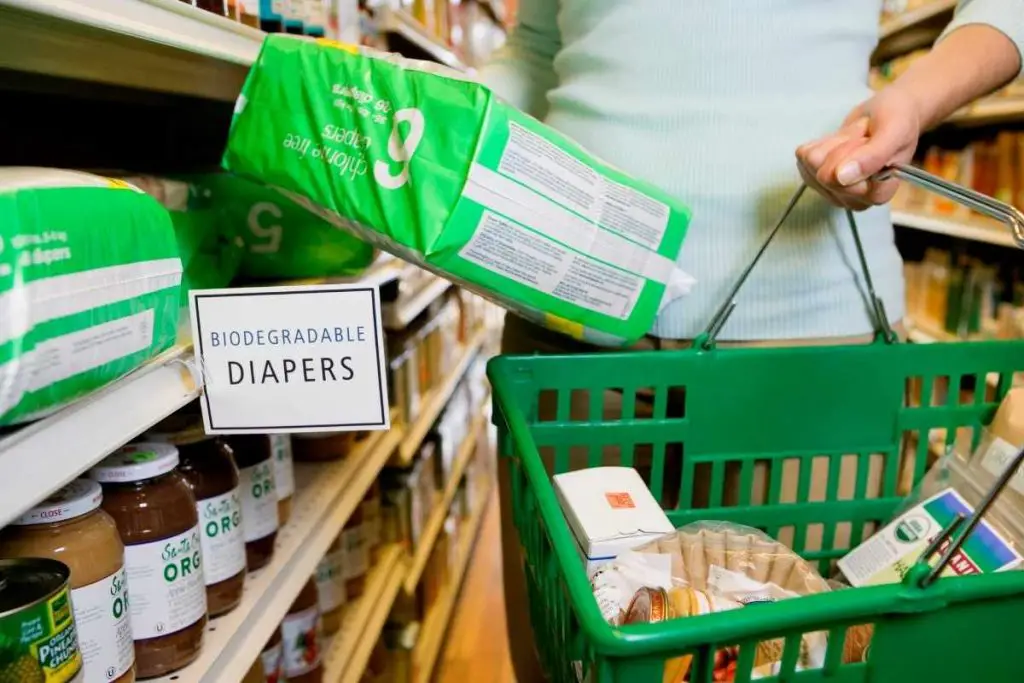 Companies may use terms like "pure" and "green" and "natural" and "eco-friendly" on their diaper packaging to give the impression their product is sustainable and good for the planet. But in reality, most single-use diapers contain plastic, meaning they will wind up in the same place as your average Pampers — in the landfill.
While some diapers market themselves as biodegradable, it's debatable how effectively they can break down in the landfill.
What are the Best Disposable Diapers?
Which Disposable Diapers are Best for the Environment?
Though disposable diapers are generally bad for the environment despite any greenwashing by diaper makers, I'm here to help you choose the best disposable diaper for you and your baby, and small improvements in eco-friendliness can go a long way, especially in sending consumer signals to companies.
So if you're looking for a disposable diaper with a smaller environmental impact, I recommend Eco Pea Co.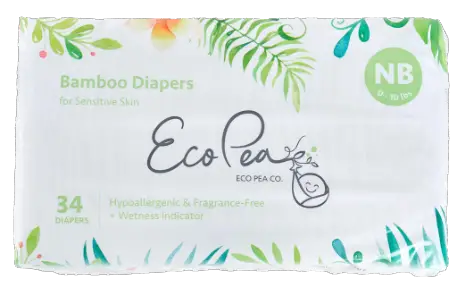 According to Eco Pea, their diapers are made with bamboo and without chlorine, fragrances, or "irritating chemicals."They also state that their diapers are over 85% biodegradable in favorable conditions (meaning not in a landfill).
Eco Pea diapers work well and I love that they list out the ingredients on their site here. In a world where almost no diaper brand discloses what the heck is in them, Eco Pea has made the brave decision to list their ingredients, warts and all (there are some non-biodegradable plastics listed.)
Unfortunately, Eco Pea diapers aren't available at all the local shops, but you can get them on their website where they do currently offer free shipping if you spend at least $50. They also have a subscription option, which will save you 20% off the regular price.
For more information about Eco Pea diapers, you can check out their website here.
Which Disposable Diapers are Best for Sensitive Skin and Eczema?
If your baby is struggling with sensitivities to the chemicals in the usual disposable diapers, and cloth diapers are not an option, I recommend giving Babyganics Skin Love diapers a try if you haven't.
Babyganics has done a really good job or removing all the things that can irritate sensitive skin and/or cause Eczema. This includes chlorine, latex, and petroleum-based lotions and fragrances. Instead, they use plant-derived materials and a "NeoNourish Seed Oil Blend" to help maintain the moisture in baby's skin. They explain that to be their own blend of tomato, sunflower, cranberry, black cumin and raspberry seed oils.
They have good absorbency compared to other "sensitive" diapers and have soft stretch sides and a wetness indicator.
One drawback however is that they don't have any chemicals in them to mask odors like most disposable diapers; so be prepared for these diapers to smell bad the instant they are wet or soiled.
Babyganics Skin Love diapers are readily available, click here to check them out on Amazon.
Which Disposable Diapers are Best for Heavy Wetters?
If you have a heavy wetter, and you'll know if you do, you have a whole other layer of concern added to your diaper shopping: absorbency!
Comparing the many brands of diapers out there, how much they can hold, and how well the hold it, there's a clear winner across every test: Luvs Ultra Leakguards.
Luvs aren't without their pitfalls; they're definitely more plasticky and less comfortable than other brands, they have no eco-consciousness at all, and they aren't widely available outside of the US (if you're in Canada, you can only get them from a third party seller and will pay through the nose for them).
With that said, if your main concern is not cleaning up leaks all day because your baby is a heavy-wetter, Luvs are your best, most economical bet for a disposable diaper.
If you live in the US, you can readily get Luvs, and can check them out on Amazon here.
Which Disposable Diapers are Best for Overnight?
Overnight diapers are not really a necessity until a baby is roughly around 9 months old, which is when some babies, though not all, will start wetting a lot more, especially at night. Some kiddos will do just fine in a regular disposable diaper at night, but heavy wetters and some babies that seem to save it all up for at night will need stronger protection at night, meaning overnight diapers.
If you can get away with a daytime diaper all night, by all means do so. Overnight diapers are typically more expensive, which makes sense because they cost more to make. If however, you're needing to change baby at night to avoid leaks, overnight diapers can decrease the number of regular diapers you use every night, which can save you money and sleep in the long run.
I have to make a confession here to hit home a point. I confess, that when it comes to the Huggies vs. Pampers debate, I'm team Huggies. Really, this is totally a preference thing. I just found them softer and that they kept my baby's bum drier, but I have friends who were team Pampers all the way and so I know it's a personal choice.
I'm telling you about my bias to emphasize how much it's a quality issue when I recommend Pamper's Swaddlers Overnights here instead of Huggies Overnites.
As much as I dislike the daytime version, when it comes to nighttime, the best overnight disposable diapers are the Pampers Swaddlers Overnights. Pampers Overnights keep wetness away from baby's skin all night long-plus they have good protection around the legs to help contain leaks if your child moves a lot in their sleep. They are also just as thin as their daytime diapers, which may make you think they are the same, but they actually do hold a lot more when you test that theory out.
Pampers Overnight diapers only start at size 3, but that makes sense, because again, it's not really a problem for most babies until 8 or 9 months old.
Like all Pampers, they are readily available; check them out on Amazon here.
Which Disposable Diapers are Best for Chunky Babies?
The best disposable diaper is one that fits well on your child – whether they be tall and lanky or naturally chunky with bigger thighs – because a diaper that fits well is one that won't leak or cause a blow-out.
When choosing a disposable diaper for a chunky baby with bigger thighs, go with diapers for walkers or crawlers if you can (meaning if baby is big enough for those styles of diapers, which tend to come only in the bigger sizes). Diapers made for walkers and crawlers will have stretchier side tabs that help fit those bigger legs. If baby is younger, you're going to have to go with a normal diaper with a generous fit.
When my daughter was tiny, she had all the rolls on her legs. They were adorible, but didn't fit in ever diaper. The only disposible that worked for me at that time was Huggies, specifically their Little Snugglers.
I really like Huggies Little Snugglers for their roomy cut and soft sides, which won't strain across and cut into a chunky leg crease like some other diapers can.
Huggies are available at most stores, and you can check them out at Amazon here.
Which Disposable Diapers are Best for Skinny Babies?
Not to sound like a broken record, but the best disposable diapers are those that fit your child well. While weight recommendations are a good guideline, for skinny babies they can be a waste of time. Too-tight elastic, or diapers that don't sit high enough on the waste are often problems for skinny babies, and will more frequently result in leaks, blowouts, and discomfort for your baby.
If you're looking for diapers to fit a skinny baby well, you're looking for narrow, high-waisted diaper options, or diapers with good waist stretch.
I recommend Huggies Snug & Dry for younger skinny babies especially (later on, you may have better luck with Little Movers) because of their contoured shape, which is present even in the smaller sizes. Snug & Dry baby diapers have a contoured shape and good elastics at the sides and back which give a snugger fit than other disposables. They are also very absorbent, as you'd expect from a Huggies product.
Like all Huggies, they are widely available. Click here to check them out on Amazon.
Which Disposable Diapers are Best for Tight Budgets?
I wish I could say that X brand of diapers are the cheapest option, but with the price differences between package sizes and stores, that's impossible.
With that said, there are many ways to save on diapers! One of the simplest options is to buy them in bulk. This way, you'll get a better price per diaper and won't be tempted by deals for individual packs that will end up costing more overall.
Another tip is to look for generic brands. Two inexpensive brands of diapers are Parent's Choice Diapers (Walmart's brand of diapers) and up & up Diapers (Target's brand of disposable diapers).
But don't always assume that generic brands are the cheapest option. Sometimes, brands like Huggies and Pampers can be cheaper per diaper than generic brands when the bigger boxes are on sale.
To find out which option is cheapest at the time, divide the cost of the package by the number of diapers in the package to get a per-diaper cost that you can compare with the other packages available.
Decide What Matters for You and Your Baby
There are lots of things to consider when deciding what diaper to buy for your baby. The diaper needs to fit your baby well, not leak or cause irritation, and fit your needs (environmental concerns, budget, etc.,).
I hope this guide has helped you narrow down your choices and given you some confidence in preparing to diaper your baby.
Get a PDF of This Article to Read Later
I know that this article is a big one! If you would like a PDF of this article emailed to you for later, click here.