Strollers designed for rough terrain provide better grip, control, and a smoother ride for your baby. They allow you to explore all types of paths and surfaces, from gravel roads to countryside trails.
Strollers that are going to work for gravel roads typically have sturdy frames, large all-terrain wheels, and advanced suspension systems to ensure comfort and safety. These features not only protect your baby from bumps and jolts but also make it easier for you to maneuver the stroller on uneven ground. To choose a good stroller for gravel roads you should consider various factors such as the wheel size and type, suspension, weight capacity, and build quality.
Aside from factors making travel on gravel roads easier, you'll also want to consider the things that will make any stroller good or bad for your lifestyle, like foldability, whether or not it has a sun canopy, storage space, the adjustable handlebar height, etc. Ideally, the stroller should also be compatible with your car seat to ensure convenience during travel.
After thoroughly researching and comparing the various available options, I've compiled a list of the best strollers for gravel roads (available in North America) right now to help you choose the perfect stroller for your own outdoor adventures.
Here's a quick table comparing all the strollers we choose to include in this review, which I'll follow up with my own results from putting them to the test.
5 Best Strollers for Gravel Roads
I've tested and gathered the top strollers for gravel roads to make your off-road adventure with your little one easier. While I was told to give a list of the top three, but I just could not choose between the BOB Gear Revolution Flex 3.0 and the Thule Urban Glide 2 Jogging Stroller for the #1 spot as the best stroller for gravel roads. I also had to include the Graco Modes Adventure wagon for anyone who wants a wagon-style stroller since I was so amazed at the smooth ride it gives.
So, here I am at five recommendations; let's go over them in depth now!
BOB Gear Revolution Flex 3.0 Jogging Stroller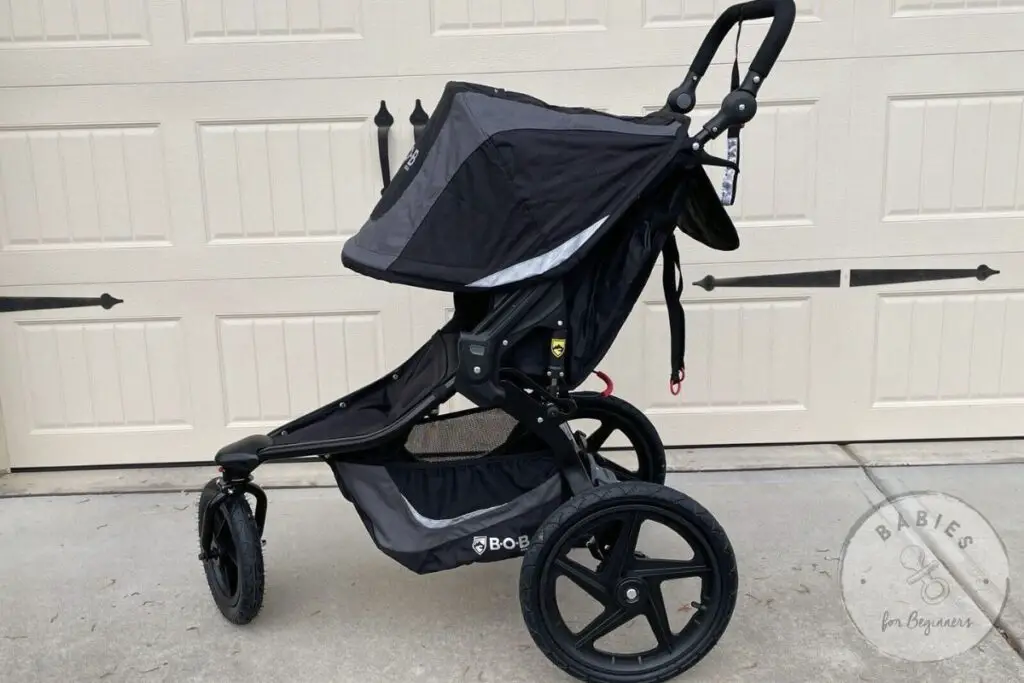 You should consider the BOB Gear Revolution Flex 3.0 for tackling the toughest terrain with fully upright seating at an affordable price point.
Pros
Excellent suspension for a smooth ride on rugged terrain
Fully upright seating for child's comfort
Affordable price compared to other high-performance strollers
Cons
No hand brake making it unsuitable for jogging on hills
Bulky size can be hard to transport
Limited storage options
I recently had the chance to borrow the BOB Gear Revolution Flex 3.0 Jogging Stroller on a couple of family outings and a hike.
After researching all the specs and taking it for a spin the first thing I noted was that the stroller's amazing suspension system and air-filled tires, DID provide an ultra-smooth ride even on gravel roads. My daughter, Esha, seemed comfortable and happy, thanks to the fully upright seat with infinite recline options.
The adjustable handlebar of the stroller is a big plus. I'm a bit on the short side but I like to have my handlebar high up, and my husband is on the taller side. I was able to find a good height on the handlebar of the Flex 3.0 and so did my husband, ensuring a comfortable experience during our walks.
That said, I found that the lack of a hand brake made it a bit challenging to control the stroller when jogging on hills – something to keep in mind if you're planning on taking it for runs in hilly terrain. The stroller's size also proved to be a bit bulky, making it harder to transport when not in use. And although it has six storage pockets and a cargo basket, I still felt there could have been more space for storing more than just a big diaper bag (though this is a typical problem with jogging strollers). That said, I loved the compact profile that's probibly the trade-off for this.
What I was most pleasantly surprised by is its affordability in comparison to other high-performance strollers. While it's certainly not the cheapest on this list, I think for how well-made it is and how smooth it rolls, it's well worth the price and right up there with some of the strollers that cost four-digits.
Overall, the BOB Gear Revolution Flex 3.0 is a great option for families looking to tackle tough terrain without breaking the bank. Just be careful when jogging on hills, and keep in mind that it might require extra space for transport and storage.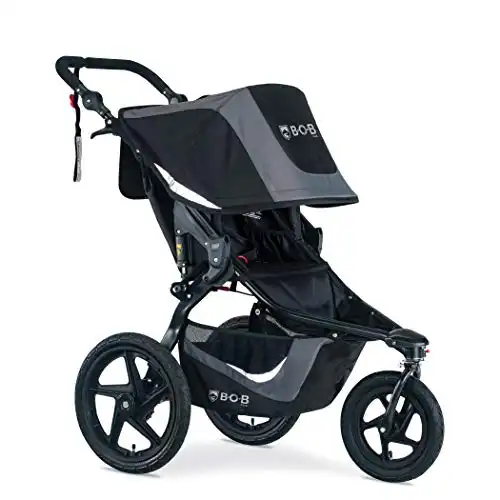 We earn a commission if you make a purchase, at no additional cost to you.
Thule Urban Glide 2 Jogging Stroller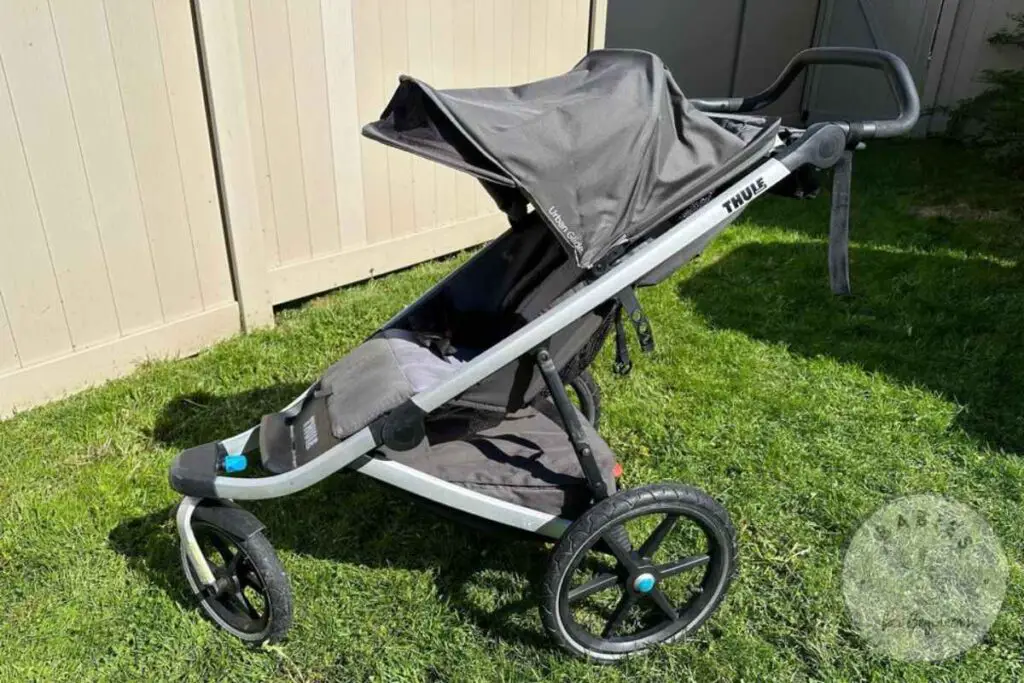 I highly recommend the Thule Urban Glide 2 Jogging stroller for outdoorsy parents who need a tough yet lightweight stroller for various terrains, including gravel roads. This thing is so smooth, it literally floats!
Pros
All-terrain wheels for smooth rides on gravel roads
Lightweight and easy to maneuver
Padded 5-point safety harness for maximum child comfort
Cons
Tall toddlers may outgrow the stroller quickly
Bulky when folded
Seat reclined position may be uncomfortable for some children
Just recently, I had the pleasure of using the Thule Urban Glide 2 Jogging Stroller and I must say, it's been a game changer. I took it out on a hiking trip with my little one, and this stroller effortlessly tackled the challenging terrain, including the gravel roads. Its all-terrain wheels and the suspension worked well because we had a smooth and comfortable trip that didn't tire my arms and let my daughter relax.
My biggest like was how feels solid and durable but it's still lightweight and easy to maneuver. Overall it's not only great for everyday short trips to the store or park but for outdoor adventures as well, and it did great on gravel and dirt roads.
I also liked the way the padded 5-point safety harness fit on my daugher. Sometimes these things just don't sit right, but this one was great and I didn't feel guilty leaving it snug all day and keeping her secure throughout the journey.
However, there are a few drawbacks to consider. First, taller toddlers may outgrow this stroller relatively quickly. Second, although the stroller folds easily for storage, it remains quite bulky after folding, which may be inconvenient if you don't have a lot of trunk space. Lastly, the seat's upright position may not be comfortable for some children, as it tends to lean slightly backward.
Overall, the Thule Urban Glide 2 Jogging Stroller has been a favorite among outdoorsy parents like myself. Its durability and ability to handle various terrains, including gravel roads, make it a great investment for active families that will be hitting all kinds of terrain, not just gravel roads. Just keep in mind the few mentioned cons to ensure it's the right fit for your needs and preferences.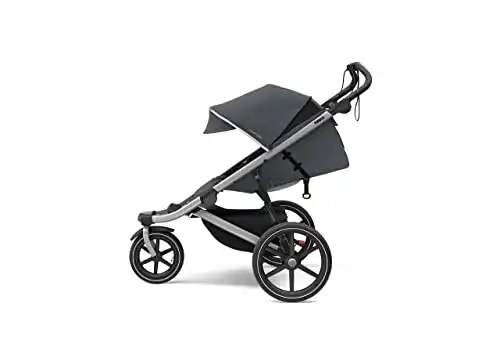 We earn a commission if you make a purchase, at no additional cost to you.
Baby Jogger City Mini GT2 Stroller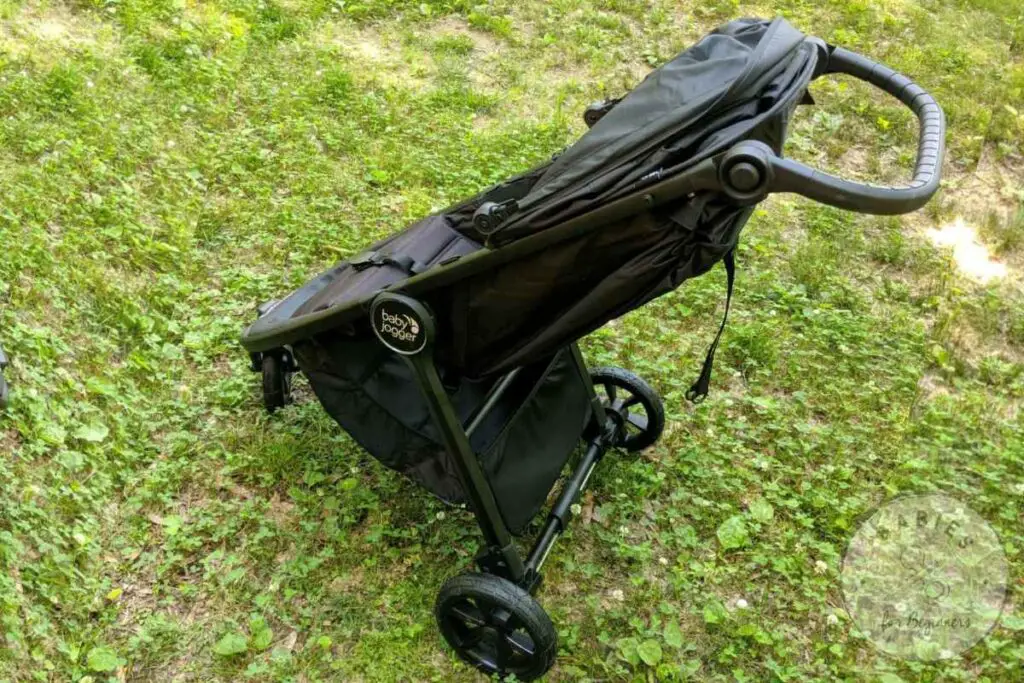 Both April, the owner of this site, and I highly recommend the Baby Jogger City Mini GT2 stroller for those seeking a comfortable and convenient all-terrain stroller.
Pros
All-terrain rubber tires with suspension for smooth rides
Easily adjustable handlebars and hand-operated parking brake
Compatible with various accessories for a customized experience
Incredibly durable and long-lasting
Cons
May be heavier than other strollers
Takes up considerable trunk space
Not a lot of storage space
Price might be on the higher side for some buyers
I recently had the opportunity to try out the Baby Jogger City Mini GT2 Stroller. The one I tried was actually April's old stroller, which she'd used daily for three years with her daughter. She told me that as a non-driver she'd go on all-day walks with it almost daily, yet the stroller itself showed very little wear and tear, which is amazing!
The Baby Jogger City Mini GT2 Stroller is one of the most popular baby strollers on Amazon, and April loved it for letting her baby catch a nap, and I can see why. Not only does it handle dirt and gravel roads with ease, but the all-wheel suspension and forever-air rubber tires ensure a comfortable ride for my baby on any terrain.
What makes this stroller stand out is the adjustable handlebars and the hand-operated parking brake, making it easy to control the stroller with utmost convenience. Moreover, the one-hand compact fold, adjustable calf support, and near-flat seat recline made it a breeze for me to find the most comfortable position for my child.
The Baby Jogger City Mini GT2 Stroller is also designed to grow with my baby, as it's compatible with various accessories such as the infant car seat, pram, glider board, parent console, and more. You can of course also get adaptors to make it work with other systems.
However, a few drawbacks I noticed are its weight and the space it takes up in my trunk. Being heavier than other strollers and slightly bulkier might be a concern for some parents, especially when it comes to transportation. Additionally, the price could be higher than other options in the market, which might be a factor to consider for those on a tight budget.
Overall, the Baby Jogger City Mini GT2 Stroller has proven to be an excellent investment, providing comfort, convenience, and customized features that make for an enjoyable ride on any terrain.
Our Pick for Best All-Terrain Stoller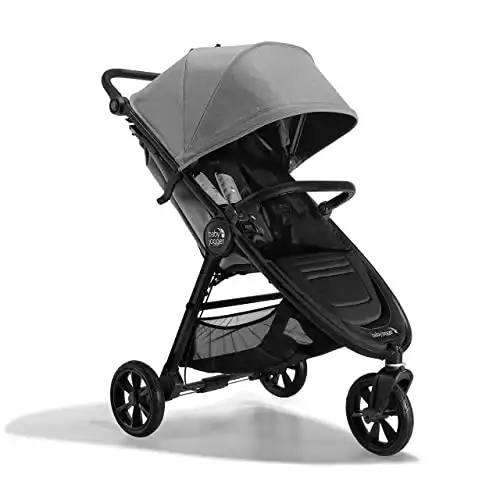 We earn a commission if you make a purchase, at no additional cost to you.
Graco FastAction Jogger LX Stroller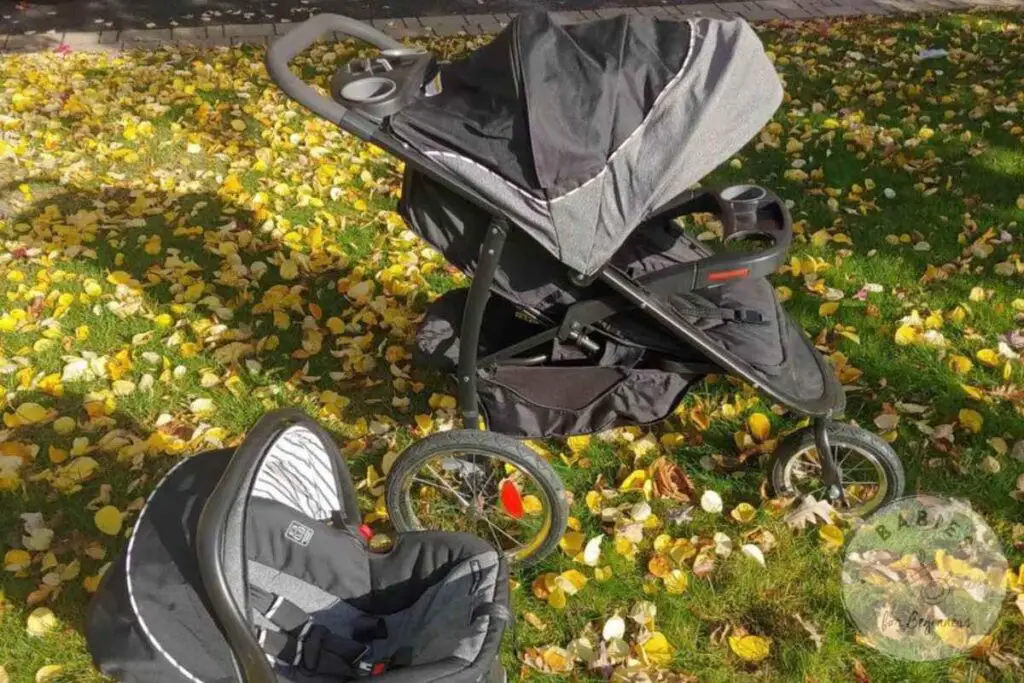 The Graco FastAction Jogger LX stroller has all the features you need for adventure and safety, with comfort and ease of use, making it an excellent choice for parents on the go.
Pros
One-second, one-hand fold for ultimate convenience
Removable seat pad to create a lightweight infant car seat carrier
Air-filled rubber tires for smooth rides on any terrain
Cons
Some users find it a bit bulky
Heavier than some other stroller models
May not fit well in smaller car trunks
As a gravel road traveller, I found the Graco FastAction Jogger LX to perform very well. The one-second, one-hand fold system makes it easy to pack up and start our adventure, and I like the convenience it provided when we have to switch locations.
The air-filled rubber tires glide smoothly on rough terrain, giving my baby a comfortable ride. I also appreciate the adjustable handle, as it allows me to find the perfect height to push the stroller comfortably.
However, I do find it a bit heavyand bulky compared to other models I've tested. It also takes up a fair amount of trunk space, so if you have a smaller car, be prepared to use up most of your cargo area.
Overall, the Graco FastAction Jogger LX Stroller is an excellent choice for parents who will be using it on different terrains and need the convenience of a quick and easy folding system, all while keeping to a reasonable budget. Its rugged design and air-filled tires make it perfect for taking on gravel roads and other uneven surfaces.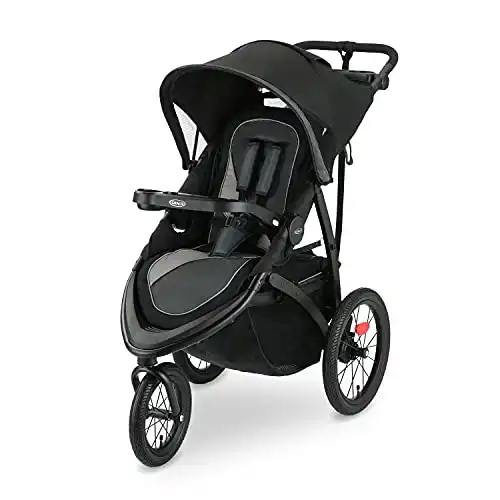 We earn a commission if you make a purchase, at no additional cost to you.
Graco Modes Adventure Stroller Wagon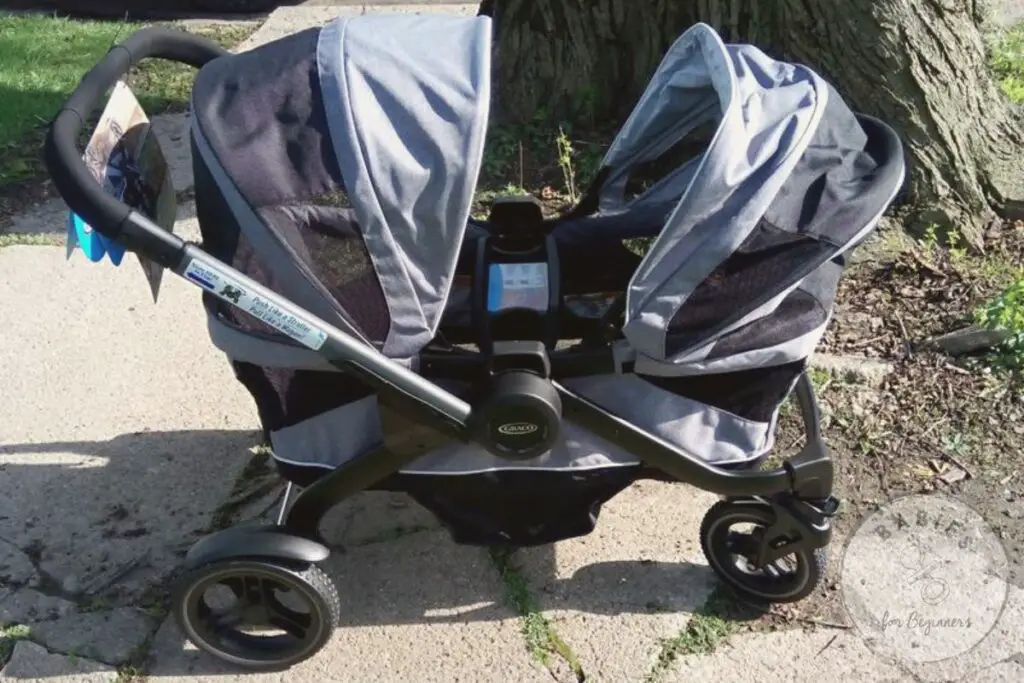 I was SO excited to find a suitable wagon stroller for this list! Usually, wagon strollers don't have much of a suspension or tire system to speak of and they can make even a freshly-paved road feel bumpy. The Graco Modes Adventure stroller wagon on the other hand is perfect for outdoor adventures with a fantastic suspension for a smooth ride on any terrain.
Pros
Versatile design – push like a stroller or pull like a wagon
All-terrain rubber tires with superior suspension
Comfortable seating and footwell for children
Cons
Canopy height may be limiting for taller children
Limited storage compared to other waggon strollers
Graco infant car seat adapter sold separately
I recently took my Graco Modes Adventure Stroller Wagon out for a test run, and I was genuinely impressed with how smoothly it glided over various roads, thanks to its all-terrain rubber tires and suspension system. This feature sets it apart from other stroller wagons, giving kids inside a comfortable and cozy experience.
The versatility of this wagon is fantastic, as I could easily switch between pushing it like a stroller and pulling it like a wagon. This made it perfect for all types of family outings, from casual walks to trips to the beach.
As for seating, my daugher was more than happy with the plush, wide seat and lots of space for her toys and my bags on the other seat. However, if I had two toddlers in there or a toddler and a car seat (which you can secure into the wagon), I'd be struggling to find space. It does come with cup holders and two zippered pockets on the outside, but there isn't much room for anything more than a few items in the pockets, so stuffing your diaper bag in there with more than one child won't happen.
I also noticed that the canopy height might be a bit limiting for taller kids, so that's something to consider if you have older or taller children.
Even though the Graco infant car seat adapter is sold separately, I appreciated that this stroller wagon can accommodate the Graco car seat for outings with an infant, and I think that would make it a great stroller for two kiddos that would last a long time.
Overall, the Graco Modes Adventure Stroller Wagon is a great investment for families who love outdoor adventures. With its unmatched suspension system, comfortable seating, and versatile design, I'd highly recommend it to anyone looking for a reliable and functional wagon stroller for gravel roads and beyond.
Our Pick for Best All-Terrain Wagon Stroller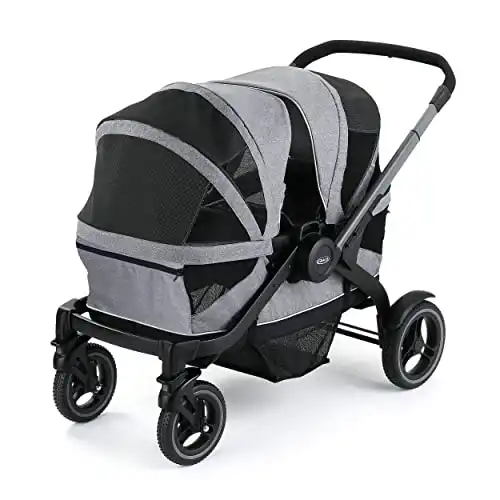 We earn a commission if you make a purchase, at no additional cost to you.
Buying Guide for Strollers that Can Handle Gravel Roads
When I was searching for the perfect stroller for gravel roads, I focused on certain features that make a stroller more suitable for such rough terrain. In this buying guide, I will share the primary factors you should consider when choosing the perfect stroller.
Tires & Wheel Mechanisms
The first factor is tires. Air-filled rubber tires are the best option, as they provide better grip and more cushioning for a smoother ride on gravel roads. You'll want to look for strollers with larger tires, as they offer more stability and shock absorption.
Wheels are also crucial, especially their size and swivel capability. A stroller with front swivel wheels is more maneuverable, making it easier to navigate through turns. However, it is essential to ensure the wheels have a locking feature to keep them in a fixed position when tackling uneven surfaces like gravel.
Suspension System
The suspension system is another key aspect of a good stroller for gravel. A quality suspension system will make the ride smoother and more comfortable for your child. Do not forget to check for adjustable suspension, which makes it convenient to adapt the stroller to different types of terrain.
Durability
Sturdiness and build quality make a considerable difference when choosing the right stroller for gravel roads. A well-built stroller is more likely to last longer and be more durable against rough surfaces. Ensure the stroller has a solid frame, high-quality fabric, and sturdy attachments for accessories.
Under-Stroller Storage
When it comes to storage, adequate storage space is vital, especially for longer walks. Look for a stroller with a spacious under-seat storage basket and additional pockets or compartments to make it easy to carry essentials.
Weight and Foldability
Lastly, it's essential to consider the weight and foldability of the stroller. A lightweight stroller is easier to push on gravel and better for transport and storage. Also, a stroller with a simple folding mechanism will save you time and effort when it's time to pack up.
Conclusion: You Have Plenty of Options!
In summary, when choosing the perfect stroller for gravel roads, focus on the tires, suspension system, wheel features, sturdiness, storage, and weight.
By considering these factors, you can find a stroller tailored to your needs and ensure it's suitable for rough terrain like gravel roads.
Once again, here are the ones I recommend:
FAQs
What Type of Strollers Are Best for Rural Gravel Roads?
All-terrain jogger strollers, like the ones I recommend above, are best for gravel roads as they will reduce the vibrations and bumps from rolling over a gravel road.
Do I Need an All-Terrain Stroller for Gravel Roads?
An all-terrain stroller isn't essential for gravel roads, but provides easier maneuverability and comfort against the bumps and dips for both you and your baby. To decide if it's right for you, consider how often you're traveling on gravel roads and your budget.
Further Reading
5 Best Strollers for Snow: Learn what strollers will perform in colder climates that get a lot of snow.
The Best Strollers for Tall Parents: Discover the strollers that are comfortable for taller parents and caregivers