It's summertime and that means it's HOT outside. But that doesn't mean you have to stay cooped up in the house with nothing to do or spend hours preparing 10-minute crafts that take another hour to clean up after.
Moms and kids alike can get stir crazy with nothing to do, especially if the entertainment budget is a little thin. But there are inexpensive fun ways to spend time with your little one that don't require hours of prep and planning.
Listed below are some fun ways to beat the summer heat with your kids:
1. Hit the Mall
This fun outing is sure to make mom and kids happy. 
Many mall locations have a children's play area, and I've also noticed that quite a few have a coffee shop next door to the play area. How convenient is that? Not to mention air conditioning!
2. Find the Cheap Movie Theatre / Movie Times
Check your local theater for $5 or FREE movies during the summer for the kids (parents are free/discounted too!).
If your area does not participate, consider viewing a "child-friendly" matinee, which is usually at a discounted price.
3. Watch a Movie Outdoors
Whether that means simply taking your laptop or tablet outside, or renting a projector to watch a movie on a hanging white sheet or side of the house, this one is a big winner.
You can make it even more special by setting up a tent, if you have one, or making a fort outside with some old sheets.

4. Sprinkler/ Water Play
Head outside with the kids for a water balloon (or sponge) toss, or flip on the sprinkler on for a fun afternoon of water play. If you have one, fill a baby pool and splash around to cool off on a hot afternoon.
Even better, if you're in an area with a local splash pad, you're in luck! Have a beach or lake nearby? What a great way to cool off and the kids will spend hours playing in the sand!
5. Check Your Community Pool Schedule
Check local listings for your community pool or YMCA.
Even if you're not a member, you can usually just pay a small fee to utilize the pool and/or gym for some fun!
6. Find Your Local Play Groups
For more options, go online and find a local moms group and/or playgroup. Local playgroups tend to be even more active during the summer months.
Some groups will take turns hosting play dates at each member's home, head to the movies together, and visit local museums, pools, libraries, and parks as a group. The options are endless. Also, as a group, many local venues offer a discount because so many people are attending together at once. So, joining a group has multiple benefits – finding new friends, keeping busy, and saving money.
7. Have a Picnic
Sure, fall picnics are fun, too. But take advantage of the warm weather while it lasts and take some food to the park! You have to eat lunch anyway, why not do it on a picnic blanket and make it an activity.
Invite friends and family over to eat yummy summer favorites. A menu with fruit salad, sandwiches and some popsicles is perfect!
8. Make Popsicles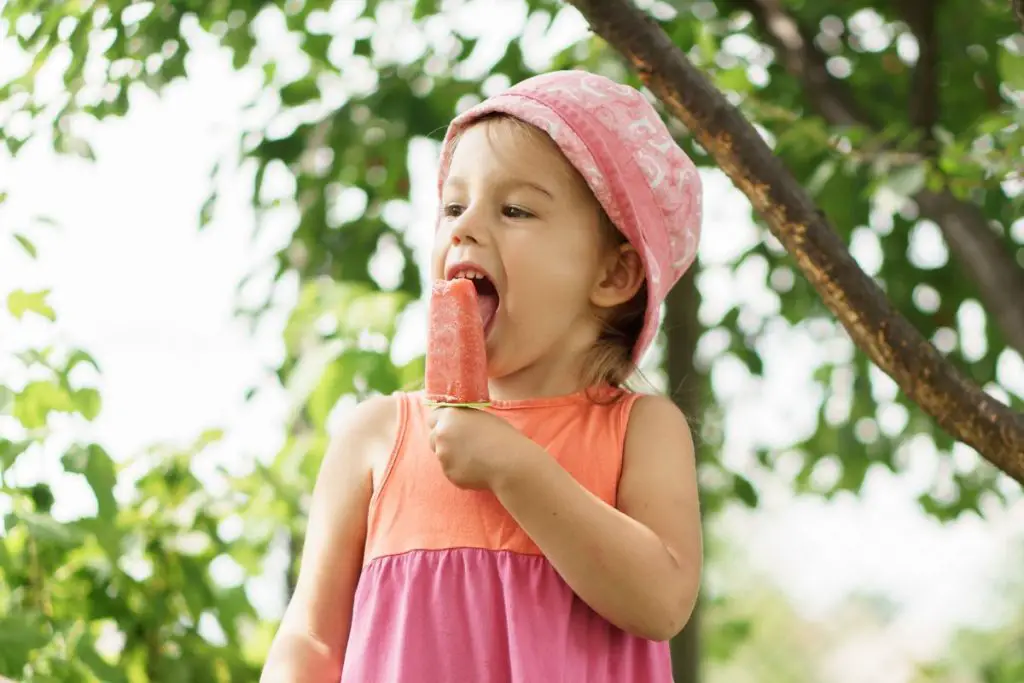 Speaking of popsicles, why not make some of your own and make it an activity!
The internet has a ton of great homemade popsicle recipes that take minutes (perfect for cooking with a toddler), like Kim's list of 20 homemade popsicles over at https://insanelygoodrecipes.com/.
I love just taking fruit flavored yogurt and putting it into popsicle molds (I have these Zoku ones from Amazon, which are great) to make a quick and easy popsicle treat my girls love.
9. Morning/Evening Walks and Bike Rides
Head on out as the sun is coming up or setting. Avoid the hottest parts of the day, yet still have sunlight for safety.
We take morning walks and evening bike rides as a family during the summer months to burn off some energy.
If you haven't yet started biking with your little one, here's our guide for biking with young children to help you get started.
10. Go on a Nature Walk
If you live somewhere with mountains, go on a nature hike searching for waterfalls. Or, simply go for a walk around a lake or through the fields.
Just get outside and get some exercise while soaking up some vitamin D!