You're going to spend a lot of time in your nursing chair, so it's important to take some care when choosing they type of chair you're going to be comfortable in while snuggling and feeding your baby.
The Many Types of Nursery Chairs Available
When you look online, you'll find that every nursery chair falls under one of three majoy categories: gliders, rocking chairs, or recliners. Recliners chairs don't move at all (though there are reclining rockers, but I'll get to those in a moment), but gliders and rockers allow you to move back and forth while you nurse or feed your baby.  
Many new parents prefer rocking or gliding chairs over stationary ones and there are lots of health, sleep and comfort benefits to rocking your baby to sleep. You can read my full article about the benefits of having a nursery rocking chair here. So in this article I'm going to focus only on gliders and rockers, since that's what most moms want and will find the best for those breastfeeding / bottle-feeding and late-night rocking sessions.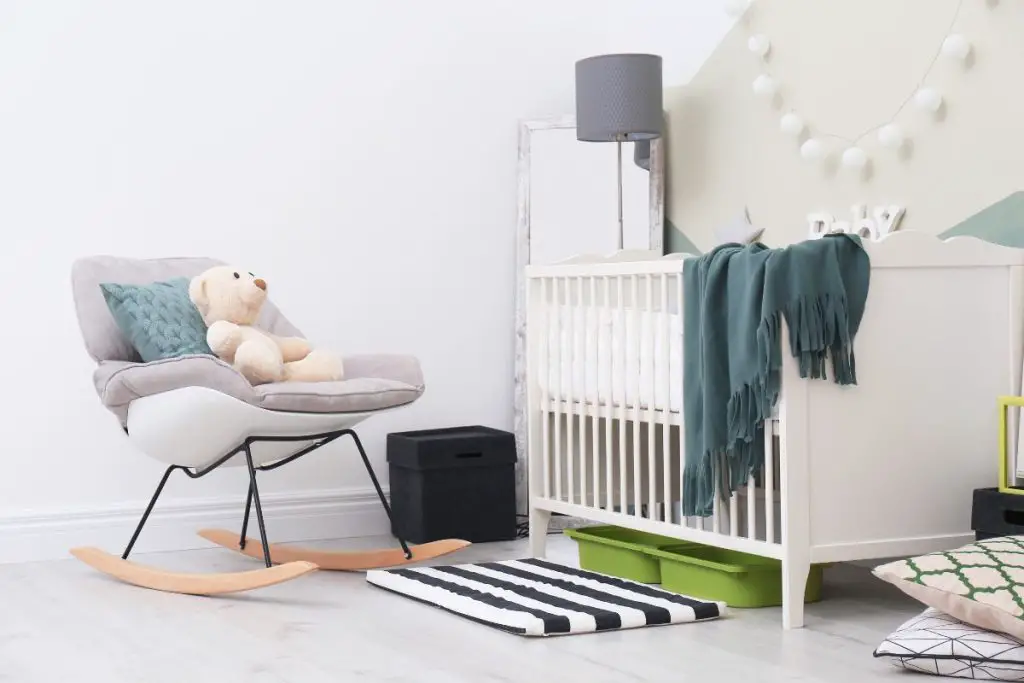 Gliders Vs. Rocking Chairs: What's the Difference?
Between gliders and rocking chairs, many people get mixed up and assume they're the same. But though they're both great choices, there is a quite a difference between the two. Here are some things to consider when looking a to consider:
Movement: Arc vs Back-and-Forth
So what's the difference between a rocking chair and a glider? Rockers move in an arc, swinging mostly at the top, while gliders move forward and backward on a fixed track (some swivel too), moving the whole chair equally.
The Smoothness of Rockers and Gliders
Gliders also tend to offer a smoother ride, but while there's only one basic type of glider, there are actually four types of rocking chairs out there today, and some of them offer a ride that's just as smooth as a glider.  
The Four Types of Rocking Chairs
Traditional rocking chairs: Traditional rockers are the ones most people imagine when they think about rockers. They have arched legs that allow the attached seat to rock back and forth.
Spring rocking chairs: Mechanically, spring rocking chairs are like gliders with springs that support the seating. But while spring rocking chairs look similar to gliders, they still move like a rocker, tilting back and forth at the top like traditional rockers. 
Reclining rocking chairs: Like normal rockers, reclining rocking chairs rock back and forth, but they also come with the added benefit of being able to recline back. Reclining rocking chairs usually have soft, comfortable fabric and cushions just like reclining chairs. It's important to note that in a reclined position, the rocker recliner cannot rock, since the reclining and rocking motion work independently.
Swivel rocking chairs: Swivel rocking chairs allow you to swing around and rock in multiple directions. Swivel chairs look much like reclining rocking chairs, but the mechanisms underneath, are there only to let the chair swivel. 
Footrest or Ottoman
Many new moms spend an hour or longer in their nursing chairs while they breastfeed and soothe their baby, and it's natural to want a place to rest your feet (which could help reduce back pain as well).
Gliders are also more likely to come with a matching ottoman, though there are some rockers that do now offer one, and you always have the option of getting an unmatching ottoman, footrest, or poof.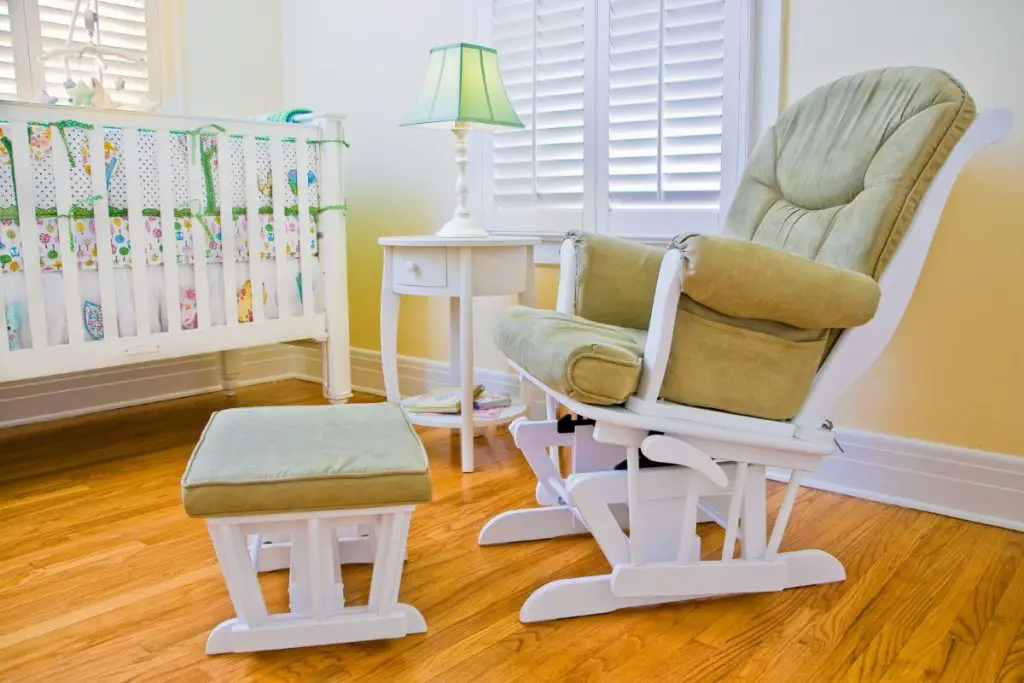 Glider vs. Rocker: Which One to Choose?
While the differences aren't incredably noticable in terms of style, as you can find a rocker or glider to fit any nursery theme nowadays, the truth is that most new parents today choose a glider for their baby's room. Because of their fixed track and low range of motion, gliders offer a smoother and gentle motion that is less jarring as a rocking motion.
With that said, many moms and babies just prefer the rocking motion of a rocker over the push and pull of a glider, so personal preference does play a role for many.
If you want to make sure you're getting the right movement for your comfort, the best thing to do is to go into a store and sit in a few to try them out. Even if you don't find the perfect chair for your room at the location, sitting in a few options and simply feeling the way they move can be helpful.
If you decide you want a modern glider, you can check out my guide to the most comfortable gliders for nursing here. If however, a rocker is your choice, check out my guide to the most comfortable rocker for nursing here.
You Don't Necessarily Have to Choose
Of course, there are also hybrids now available, so you may not have to choose at all. My top choice of all rockers and gliders in 2022 is the Emmerson Rocker by Delta, which rocks, glides and swivels, giving you the full range of motion that you could ask for (even better, Amazon now bundles it with the matching ottoman).