Moms-to-be often ask about pregnancy-safe hair removal methods thanks to those infamous pregnancy hormones making hair grow faster, grow in new places, and even change the texture (often making them more noticeable). 
So, is it safe to use hair removal creams during pregnancy? Yes, it is safe to use hair removal creams, also called depilatory creams, during pregnancy. However, it's recommended that you spend time reading through the product instructions carefully and keep doing a patch test prior to each use throughout your pregnancy.  
In fact, there is some excellent evidence in support of the use of depilatory creams, such as the popular brands Nair and Veet, over some other hair removal treatments, which we'll cover below. But first, it's important we take a quick look at how they work.
How Do Hair Removal Creams Work?
Depilatory creams, or hair removing creams, change the structure of your body hair so it can be easily wiped away, without the need for physically plucking the hairs from their follicle bed. Specifically, the chemicals in hair removal creams break down the disulfide bonds in a substance known as keratin. 
Keratin, a strong and structural protein, is a major component of hair, and when chemicals break that keratin down, the hair becomes soft and weak and easily wiped and rinsed off the skin.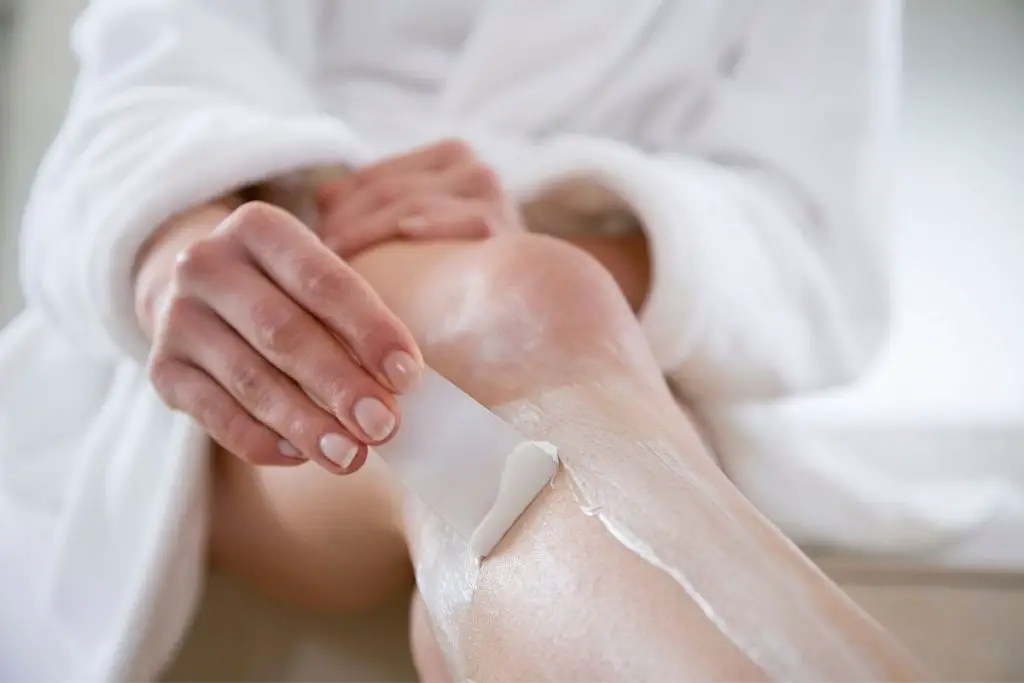 What Chemicals are Present in Hair Removal Creams?
In many popular hair removal creams, the destruction of the disulfide bonds in keratin is achieved by including a combination of two bond-breaking chemicals, often potassium thioglycolate (or a similar salt of a thioglycolic acid, such as calcium thioglycolate) alongside a base (an alkaline chemical).  Calcium, potassium or sodium hydroxide are generally used as this alkaline base. 
The alkaline bases are present because they make the hair permeable to the potassium thioglycolate (or another thioglycolate). They do so by causing the hair shafts to swell, producing gaps which then allow the potassium thioglycolate (or similar chemical) to readily enter the hair.  As well as letting their chemical counterpart into the hair, the base also changes the chemical structure of the potassium thioglycolate or salt of a thioglycolic acid – exposing a sulfur atom on them which is then free to work on breaking down those disulfide bonds in the hair. 
That's a lot to take in, and probibly not what you're here for; you probibly just want to know if it's ok to use the hair removing creams you find at the store (like Nair and Veet) on your skin while pregnant. So, let's answer those questions right now.
So, Is it Okay to use Nair when Pregnant? 
Yes!  The chemicals present in Nair ensure that this brand of hair removal cream is safe during pregnancy.  Nair also offers a range of products formulated for sensitive skin, so there are plenty of gentler options if pregnancy has left your skin more reactive than usual.
According to The Official Journal of the College of Family Physicians Canada, the alkaline chemicals used in Nair removal creams (like sodium, calcium and potassium hydroxides) change chemically when the product is used properly, disassociating into sodium, calcium and potassium and hydroxide ions.  These ions are not absorbed across the skin and into the bloodstream at worrying levels if the cream is applied as directed by the manufacturer.  In fact, the quantity of ions which enter the blood are classed as negligible and a pregnant woman is likely to obtain more of these ions via the food she eats. 
Within this review we see that there have not been human trials on the absorption across the skin of thioglycolic acid (the salt of which is used in many Nair formulations). However, if we look to the German Commission for the Investigation of Health Hazards of Chemical Compounds in the Work Area we find that these salts are classified as Pregnancy Risk Group C in relation to their MAK value (that is, their maximum workplace concentration). What this ultimately means is that prenatal toxic effects of potassium thioglycolate and similar thioglycolates are unlikely.  Given that the MAK value refers to repeated exposure to a chemical in a workplace, we can surmise that the occasional use of these chemicals within a topical cream can be perceived as safe during pregnancy. 
Is Veet OK during Pregnancy?
Yes! Veet hair removal creams feature the safe chemical combination of potassium thioglycolate and calcium hydroxide. Veet offers formulations which are well-suited to that extra-sensitive pregnancy skin, with the inclusion of skin soothing pregnancy-safe ingredients such as aloe vera.
The Infant Risk Centre at Texas Tech University's Health Sciences Center states that the potassium thioglycolate, which we find in Veet, is not associated with reported adverse risks, other than potential allergies (likewise for the calcium thioglycolate found in many other popular hair removal creams). 
The German Commission (mentioned above) notes that absorption of thioglycolic acid and its salts through the skin appears to be pH dependent. These chemicals penetrate the skin more readily when the pH is more acidic.  Remember, then, that Veet hair removal cream contains the highly alkaline ingredient calcium hydroxide making the cream itself alkaline. The absorption of Veet's potassium thioglycolates through the skin is therefore far less likely. 
Further research helps to clarify that brands such as Veet and Nair can indeed safely be used during pregnancy.  The International Journal of Women's Dermatology featured a review of the safety of various cosmetic procedures during pregnancy where they actually recommend depilatory creams as a safe hair removal method compared to other hair removal methods, such as laser hair removal during pregnancy.
So in short, products like Veet and Nair are perfect to tackle that totally normal, but still frustrating, pregnancy body hair growth!
Will Hair Removal Creams Cause Allergies During Pregnancy?
The active ingredients in hair removal creams can irritate the skin when they're present at a higher percentage, when they're present at a skin-safe percentage but are left on the skin for too long, or simply because the skin is experiencing pregnancy-related increased sensitivity.  
Earlier we thought about the pregnancy hormones which promote hair growth, and these have another trick up their sleeve in the form of this increased skin sensitivity.  This is something you should keep in mind when using hair removal creams such as Nair and Veet. 
In an article published in Scientific Reports it states that up to 90% of pregnant women experience some sort of change to their skin, including worsening of pre-existing skin conditions. With a skin which is clearly more reactive, a pregnant woman should try to find a hair removal cream for "Sensitive Skin", which as you now know, brands like Veet and Nair offer.  And, most importantly, she should carry out a patch test to check for any sensitivity. 
Hair removal cream brands note that even if their products have previously been used without any issue, an allergic reaction and skin irritations can still happen with subsequent uses.  It's recommended that you patch test in an area where you intend to use the cream and, once the product has been used and removed, the test area should be observed for 24 hours before performing the full hair removal treatment. 
But, even if a pregnant woman's skin were to react, it is important to note that as per this article published in the Journal of the American Academy of Dermatology, pregnancy-related skin reactions are not associated with any risk to the mother or her developing baby.
Best Hair Removal Creams for Pregnancy
With so many depilatory creams to choose from, we're here to help you find the perfect pregnancy-safe product for your hair removal needs.  You'll find the best hair removal creams for each of the key hairy areas, each one carefully selected for its pregnancy-safe ingredients, ease of use and pleasant scent (we know how nauseating a bad smell can be during pregnancy!).
Best Hair Removal Cream for Facial Hair – Gigi Hair Removal Cream
We all know that the skin on our face is one of the most delicate areas of the body and given that pregnancy hormones make the skin even more sensitive and prone to allergic reactions, you need a supremely gently hair removal cream for use on the upper lip and face. Gigi Hair Removal Cream is specifically formulated for sensitive skin and what's more, it comes with a separate soothing balm, offering that additional step to protect the skin.
The hair removal cream itself contains the pregnancy-safe hair-removing combination of calcium thioglycolate alongside calcium hydroxide.  The skin is soothed and protected by ingredients in the separate balm such as coconut oil, aloe vera and cucumber extract.  This balm really helped this product stand out from its competitors when it comes to keeping the pregnant skin as safe as possible when you remove hair. 
Best Hair Removal Cream for Your Bikini Line – Nad's 3-in-1 Hair Removal Butter
The bikini area requires a delicate touch when it comes to unwanted hair removal during pregnancy.  Not only is the skin more sensitive, but the whole pubic area also receives an increased blood flow, and this can leave the area prone to irritation. 
Nad's rich and creamy 3-in-1 hair removal butter offers your bikini lines the ultimate protection during the depilation process, with plenty of shea butter to soothe and hydrate, guarding against skin irritation.
Being 80% natural ingredients, this formulation is sure to appeal to pregnant women and they will be pleased to know that the product's hair removing duo of potassium thioglycolate and potassium hydroxide is pregnancy safe.
Best Hair Removal Cream for Legs – Veet Legs & Body Gel Cream Hair Remover Sensitive Formula
Whether it's because she's feeling nauseated during early pregnancy, or because her bump makes bending down pretty tricky in the later stages of pregnancy, removing hair from the legs can be something of a challenge for the pregnant mom!
With an upper time limit of ten minutes on the skin, Veet Legs & Body Gel Cream Hair Remover makes the process quick and convenient.
Veet's gel formulation makes for a super easy and quick application across the legs and although you need to use quite a lot of product to cover the legs, this hair remover has a pleasant vanilla and passionfruit fragrance rather than the notoriously unpleasant aroma of many depilatory creams.
With its sensitive formula, it is the perfect choice during pregnancy when we need to be more careful with the skin.  Aloe vera and vitamin E within the gel help to guard against irritation and promote wonderfully smooth, softened skin.
Honorable Mention for Legs – Nair Leg Mask
Another hair remover which deserves a mention here is the Nair Leg Mask.  This offers an extra rich, nourishing formulation with shea butter to soothe and moisturize the legs.  It is popular among consumers as an excellent product for removing thicker hair on the legs- perfect for all that pregnancy hormone-driven hair growth.
Best for Underarms – Nair Glide Away Sensitive Formula with Coconut Oil
The underarms aren't the easiest spot to apply a depilatory cream!  If you're looking for a quick and easy way to remove those coarse underarm hairs during pregnancy, Nair's Glide Away Sensitive Formula offers the best ease of use with its roll-on style applicator, allowing the depilatory cream to glide onto the underarm area neatly and without any mess.  
It contains the pregnancy-safe hair removing combination of potassium thioglycolate and calcium hydroxide.  Specially formulated for sensitive skin with coconut and orange blossom, this product will help to keep that pregnancy-related sensitive skin calm and soothed, with a gentle pleasant scent to placate the "pregnancy nose."
Best Hair Removal Cream for Pregnancy Overall – Veet Botanic Inspirations 3-in-1 Shower Cream (Sensitive Formula)
We've found the best pregnancy-safe hair removal cream for standing up to the excess hair growth that you'll experience all across your body during pregnancy.  Understanding that hairs get thicker as well as longer during pregnancy, we looked for a cream which coupled hair removing power with a superbly gentle formulation. Veet's 3-in-1 Legs and Body Shower Cream ticks all these boxes!
We loved the fact that this product is designed for use in the shower, so rather than finding the time (and energy) to carry out a depilation, a pregnant mom can simply multi-task during her daily shower! Hair removal can take place in as little as 3 minutes (perfect for those women who feel queasy in the shower in early pregnancy or feel too hot and tired in later pregnancy), then the formulation offers 24 hours of moisturization.
Aloe vera and vitamin E ensure that your more sensitive skin during pregnancy won't be irritated and the pairing of potassium thioglycolate and calcium hydroxide will remove hairs from all body parts (though it shouldn't be used on the face) in a pregnancy-safe manner.   
Unlike a number of other leading full-body products, this Veet product does not contain the peppermint essential oil which some sources recommend you avoid using topically during pregnancy.
References
Almas, S. (2015). An Overview of the Safety of Skin Care Products During Pregnancy. InfantRisk Center. https://www.infantrisk.com/content/overview-safety-skin-care-products-during-pregnancy  
Bozzo, P. et. al. (2011). Safety of skin care products during pregnancy. Canadian Family Physician. 57(June 2011), 665-667. https://www.cfp.ca/content/cfp/57/6/665.full.pdf
Hartwig, A. (2016). Thioglycolic acid and its salts. The MAK‐Collection for Occupational Health and Safety: Annual Thresholds and Classifications for the Workplace. 1(2). https://onlinelibrary.wiley.com/doi/10.1002/3527600418.mb6811sale5416
Trivedi, M.K. et. al. (2017) A review of the safety of cosmetic procedures during pregnancy and lactation. International Journal of Women's Dermatology. 3(1), 6-10. https://www.sciencedirect.com/science/article/pii/S2352647517300059
Wong, R., Ellis, C. (1984). Physiologic skin changes in pregnancy. Journal of the American Academy of Dermatology. 10(6), 929-940.  https://www.sciencedirect.com/science/article/abs/pii/S0190962284803059
Yang, M., Zhou, M., Li, Y. et al. Lipidomic analysis of facial skin surface lipid reveals the causes of pregnancy-related skin barrier weakness. Scientific Reports. 11, 3229 (2021). https://www.nature.com/articles/s41598-021-82624-3