Reading to your toddler is not only an excellent way to spend quality time with them, but it also stimulates their imagination, helps them develop empathy, and is great for their cognitive development and language skills.
There are just so many benefits of reading to your child that make it well worth the effort!
In this article, we'll take a deeper look at why you should read to your toddler, how long you should read to your toddler, and I'll give you eight tips on how to introduce reading in the most enjoyable way possible.
So, let's dive in.
Why is it Important to Read to Toddlers?
Studies have shown over and over that reading to children from a young age plays an important role in brain development.
According to a 2012 research report by the Melbourne Institute of Applied Economic and Social Research, even the frequency of reading to children at a young age has a direct causal effect on their schooling outcomes regardless of their family background and home environment. 
They found that reading to children 3-5 days per week (compared to 2 or less) has the same effect on the child's reading skills at age 4-5 as being six months older. Reading to them 6-7 days per week was found to have the same effect as the child being almost 12 months older.
And that's not even looking at the compound effect that advancement will have as they continue to learn and grow.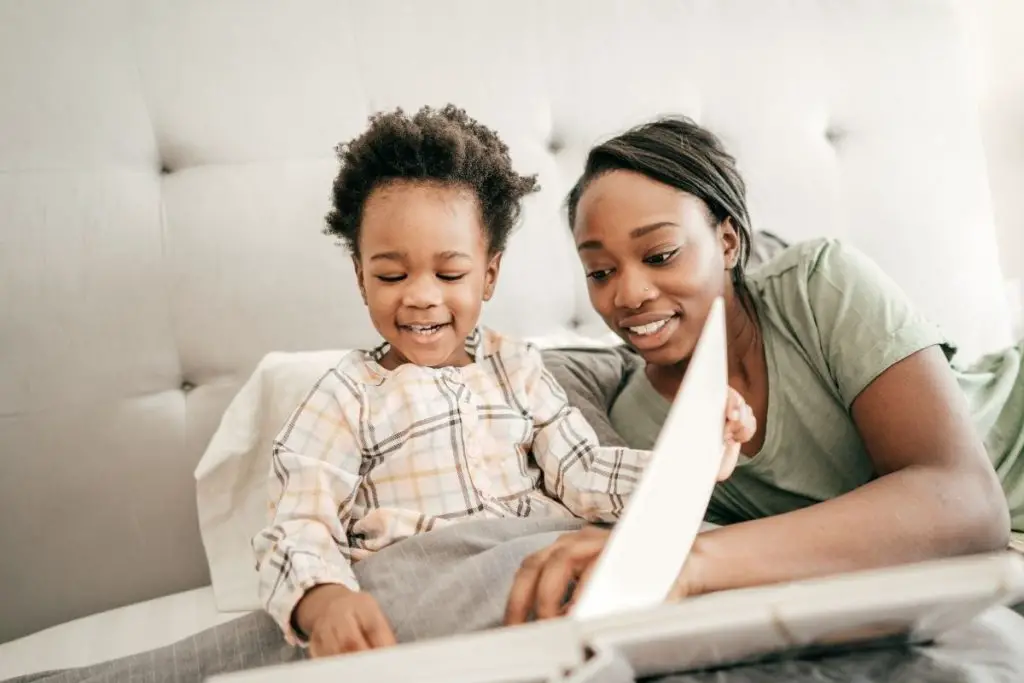 How Long Should You Read to a Toddler?
If you have an active toddler who seems to zoom all over the room until they crash in bed for the night, you might be worried about to get them to sit for long enough for a whole story.
So, just how long should you read to a toddler? As long as they want to. Don't Sweat It, and don't stress either of you out.
Young children just don't have large attention spans and that's ok. If you can't get through a while book, let it go and come back to it later when their energy is better for it.
Don't force your little one to sit through to the end of the book if they've had enough because the negativity they will associate with reading takes away from any benefit reading the whole book will have. Keep things light and if they're not ready for it now, come back to it later; you'll both benefit from the positivity.
The name of this game is habit.
Just like continuing to put different foods on their plate will eventually lead them to enjoy more foods, continuing to expose your little one to books and reading will develop their taste for them too.
How Do I Introduce my Toddler to Reading?
Just like any habit, the more enjoyable it is the more likely it will stick. Finding ways to make introducing reading fun will build the habit quicker and make it stick longer.
Here are eight tips to make reading with your toddler more enjoyable:
Make it a predictable part of your schedule. If you've already developed a habit of reading with your toddler when they were infants will find that it's much easier to keep reading with them now that they are toddlers. But if not, no worries, the best time to start is now! Incorporating books into your child's routine before bedtime or naps will have the dual benefit of helping them wind down, but find the best time in your schedule that works for you.
Offer your toddler choices. Little kids love choices; it makes them feel like they have some control and are a participant in their day rather than just being pushed along. Letting your toddler choose the book you're going to read is a great way to offer them a choice and get them engaged in the habit of reading. Don't worry if they ask for the same book over and over, this is normal and actually a good way for them to learn through repetition. If reading Mittens the New Kitten for the 750th time (sigh) makes you cringe, try having them pick one book and you pick the next. With any luck, they will find a new book to ask for day after day.
Don't Narrow the Choices. While you might want to read your little one color books so they can learn those skills too, if your kiddo is more interested in big brother's Pokemon comics, let it go for now. Read from any type of book that your toddler has an interest in. Young children often enjoy books about experiences familiar to them.
Keep the Options Open. Taking your toddler to the local library or bookstore regularly is not only a fun outing for you both, but will introduce them to a variety of books to hold their interest. Allowing them to buy a book now and then, or helping them to get their own library card will also get them involved with the reading process in a whole new way. Librarians and bookstore staff are also great at helping find engaging and age-appropriate books for your toddler. Every librarian I've met would be thrilled to help a little one find new books to read, which may even have the benefit of letting you put Mittens aside for a night or two.
Make Books Part of Your Home. Over and over research studies, including this one, and this one, have found that having books in the home increases the level of education and the level of success children attain. Making books a part of your home and dedicating a bookshelf, box, or another area where your toddler can keep their collection will help them get interested in books in the short term, and help their success in the long term.
Swap Loud Toys for Books at Holidays. No parent really wants to get their toddler that toy trumpet, so don't forget that books make wonderful gifts. Even better, books that are gifted become special items that will hold extra value for your child as they grow.
Engage Them in the Story. Begin by pointing to some of the pictures and ask them to name the object. Later on, try to bring in some reading comprehension skills by asking them open-ended questions like, "What would you do if that was you?" or "What do you think happens next?" Similarly, if your toddler asks you a question, stop and take the time to answer it before going ahead with the rest of the story.
Get Silly. Funny voices, animal noises, sound effects, and more will keep reading light and fun. There's no better way to keep a toddler interested in a book than getting silly with it.