Inflation is murdering everyone's wallets right now!
If you've got a birthday party coming up soon, and you're worried about pulling it off without breaking the bank, you should know that it is TOTALLY possible to have a super fun and successful party without spending much money at all!
Here's how to save and get the full birthday fun, without the big birthday bill:
Disclosure: This site is a participant in the Amazon Services LLC Associates Program, an affiliate advertising program designed to provide a means for sites to earn advertising fees by linking to Amazon.com. We are compensated for referring traffic and business to Amazon and other companies linked to on this site.
1. Choose Big and Colorful Decor
First of all, when choosing your party theme, consider getting creative and not limiting yourself on options. Choosing a theme like "Twister' or "zoo" will keep lots of colors in play and allow you more options when finding decorations for your theme.
No matter what your theme is, bigger, generic decorations like balloons and streamers in your party colors are inexpensive and can make a room feel very festive for very little money when compared to all those fancy party store decorations.
If you really want something special, you can also use decorations from a previous holiday or party, or ask to borrow decorations from a friend or family member. You can also ask your local Buy Nothing Facebook group if anyone recently had a party and has extra decorations to pass on.
Remember not everything has to be of excellent quality; if your budget is limited there are always good options that don't break the bank.
Keep the Guest List to VIPs
The amount of money you spend can vary greatly depending on the number of guests. 
If you invite only a small group of children your expenses will be much lower than inviting every child in the neighbourhood. If you're having parents stay with their children as well, obviously the expense will be greater.
Host the Party at Home (or at the Park)
The cheapest option is your house or in the house of a family member or friend – or if weather permits at your local outdoor park.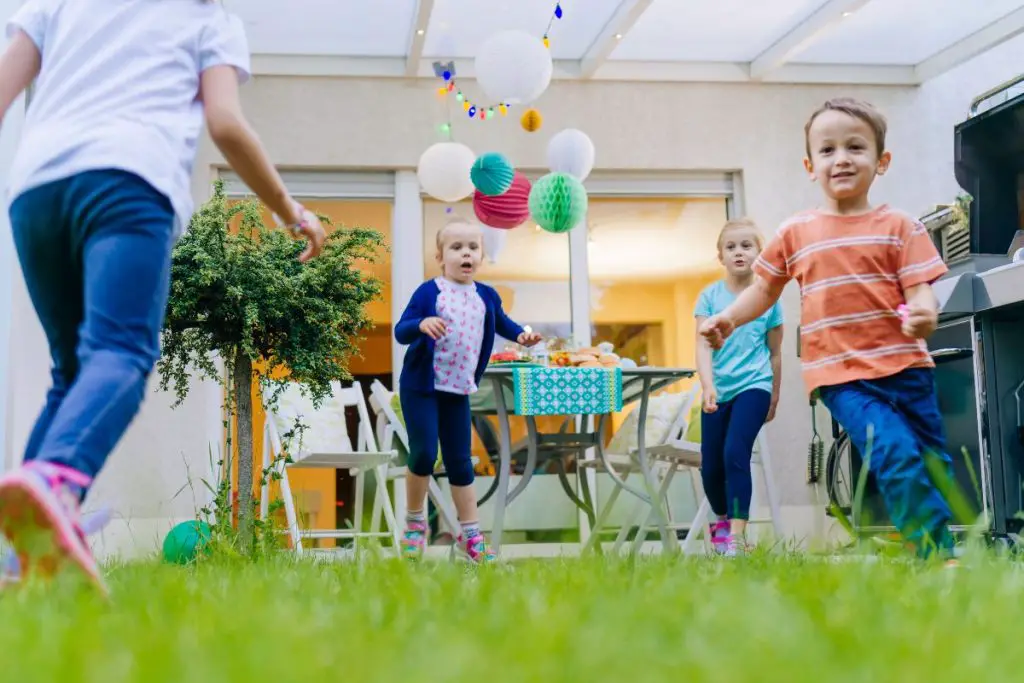 If you have no choice but to rent a place like a clubhouse or a party room, do it during the week and at earlier hours, as that will also reduce rental costs.
Plan it for Snack Time
The schedule is very important, plan it after lunch or after dinnertime so you can prepare only snacks, appetizers, and other light foods. That way you can leave more free room in your budget for other things.
Or, Throw a Potluck!
If you do decide to have a lunch or dinner party, why not make it a potluck!
Ask your close family or friends to help you by bringing a favorite dish or drink. That way you aren't spending as much and you will have a larger variety of foods. Plus, the homemade dishes can be a great conversation starter!
Bake the Cake Yourself
Instead of shelling out a fortune on a cake from a bakery, try your hand at making your own! You can snag a box of cake mix for just a few bucks and whip up your own frosting from ingredients in your pantry.
A couple of dollars worth of sprinkles (you would be surprised what baking mishaps sprinkles can fix) and fun candles will be all you need to make a cute cake.
Serve Drinks in Pitchers and/or Dispensers
Bottled waters, sodas, and juices may be convenient, but they are certainly not cost-cutting.
Instead, consider the option of preparing flavored waters. Aside from being healthier, it's also less expensive if you use seasonal fruit in a large dispenser. If the little ones prefer juices, you can prepare juice from frozen concentrates in large dispensers or jugs.
Pro tip: Put names on the cups so the children and adults will keep their own as this limits the number of orphaned cups that get thrown away.
Get Cheaper, Generic Disposable Dishes and Cups
If you're up for the dishes, you could save more money if you use your regular plates and cutlery.
That said, time is money too, and spending hours doing the dishes after your event is, in my opinion, not worth the few dollars you can spend on disposable items.
Instead of buying the super expensive themed plates at the party store, opt for the generic ones which are far more inexpensive. Instead of themed cups, grab a pack of red Solo cups and some stickers to match your theme.
If you prefer true birthday plates and cups try to buy them at your local dollar store or buy with coupons during a sale to get them for cheap!
And don't throw out the extras, save them for next time (no one is going to care if there are a few birthday plates mixed in at your 4th of July BBQ).
Skip the Invites; Create an Event
Do not spend money on paper invitations. Instead, use social networks like Facebook to create your own event with all of the details of your party.
It's easier to see who can attend this way, and all without spending a single dollar.
Play Games As Entertainment
If you have deep pockets a clown, princess, or bouncy house rental are great, but honestly, little ones get just as excited and have just as much fun playing free party games.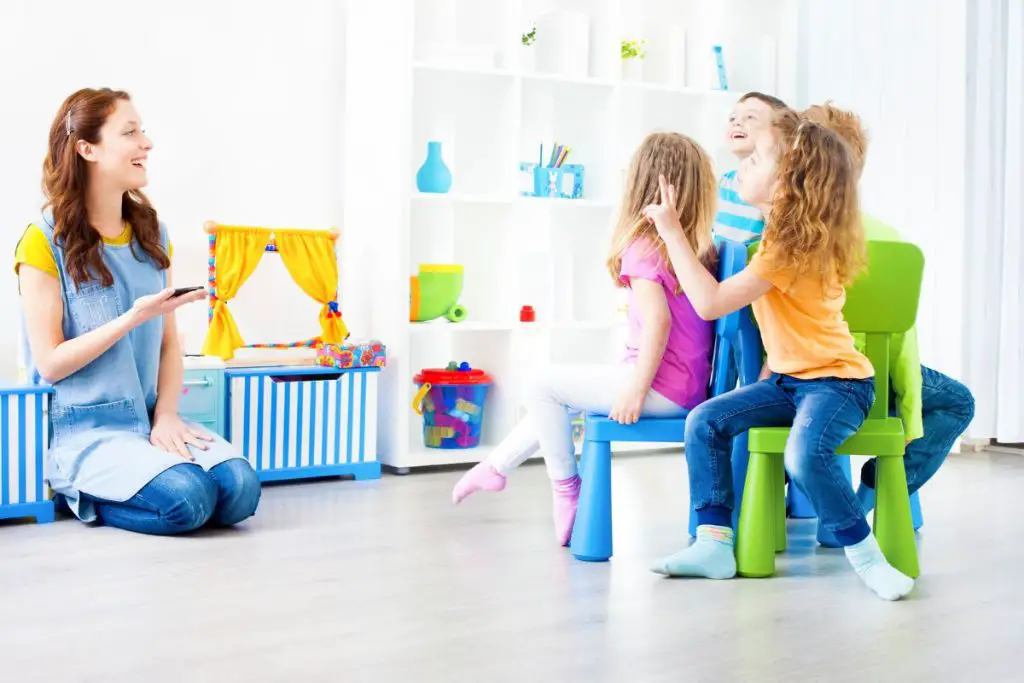 Some of the best party games, that won't cost you a penny, are:
Choose Big Party Favors, Not Bags
Kids party favors are by no means mandatory, but if you would feel bad for not offering the children something to take home, don't go for the bag filled with little items. As cheap as the little toys and things they sell you to fill up these bags are, you need so many of them it quickly becomes expensive!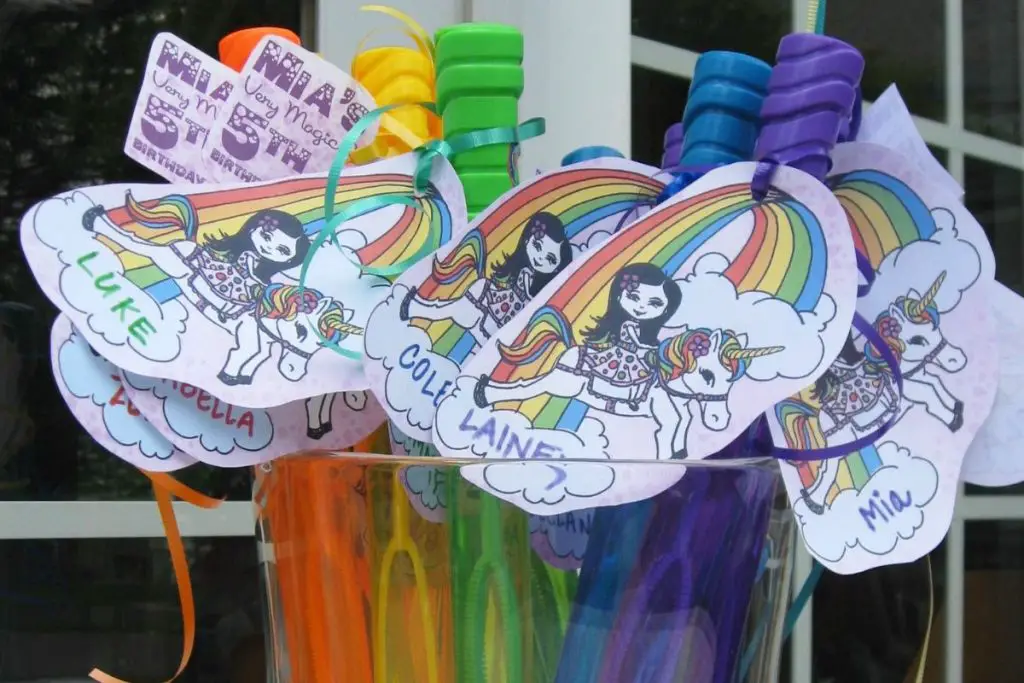 Instead, buy a single bigger item for each kid for a buck or two each. A bottle of bubbles, a pail and shovel, a dollar store puzzle, or something that looks nice with a bit of ribbon or streamer tied around it can make a big impact and keep the cost down at the same time.