Toddler-friendly stocking stuffers don't need to break the bank, but they should be fun!
In this post, I've got a ton of ideas to help you stuff your toddler (or preschooler's) stocking for very little money but with all the joy!
Three Tips to Fill A Toddler's Stocking for Less
Before I get into a list of inexpensive items to fill the stockings with, look at these two tips to help you get the most bang for your buck:
Tip 1: Fill it with larger items. Not only will this fill the stocking up faster and with fewer items, but you'll also avoid some of those tiny knick-knacks that never actually get played with anyways.
Tip 2: Add a few things from around the house. Already have an apple in the pantry? Maybe some leftover boxes of crayons from your back-to-school shopping spree? You certainly don't need to purchase everything from the store.
Tip 3: Check out your local thrift shop for gently-used items, little kids don't care as long as it's fun! When my daughter was three I found a wack of plastic animal figures for a few dollars that filled her stocking and she LOVED them!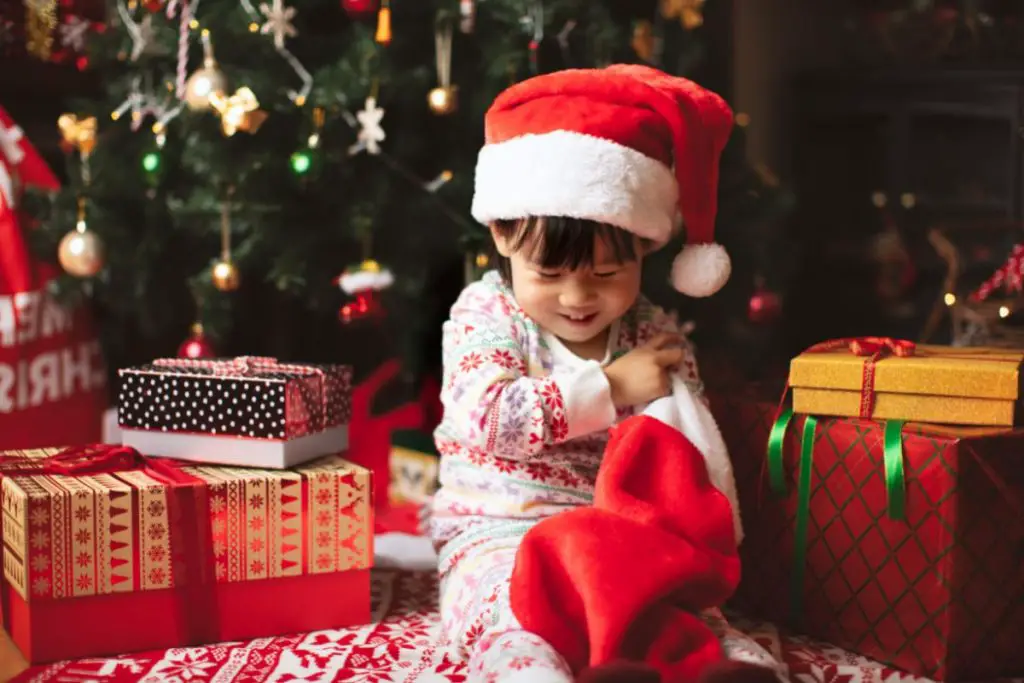 Stocking Stuffer List for Toddlers
An apple or an orange. There's a reason they did this in the early 1900s; for some reason, kids get so much more excited about fruit if they find it in their stocking!)
Bubbles. If it's too cold outside where you live, blowing bubbles is still a fun bath activity, where it's less messy!
Slime, silly putty, kinetic sand, and/or PlayDoh. Always hours of fun!
Waterbeads or Orbeez. For sensory play and fun.
Small hand sanitizers or lotions. I don't know why but small kids, especially our COVID babies, love this one. Just make sure you're watching them and showing them how to use it if they're a bit young for it.
Watercolors. This Crayola 16ct set is very inexpensive and looks like lots of fun!
Toothbrush. This is always a staple in our stockings, and it gets kids excited about brushing with the toothbrush Santa brought.
Stickers.
Free printed coloring pages. Roll these up and tie them with a piece of ribbon and you're good to go!
Playing cards. Either just regular playing cards (great for teaching numbers or UNO, Go Fish, Pokemon, etc. games are great.
Mini Play-Dough. This long and skinny 10-pack of PlayDoh is very cheap and would fit great in a stocking if you didn't want to wrap them individually (though you still could).
Small stuffed animals. Disney Tsum Tsums would be a big hit!
Bath toys. Little squirt toys are especially great. These Munchkin squirt toys are classics.
Plastic safari, ocean, or other animal figures. Wrap these individually so they fit in the stocking and prolong the fun!
Chapstick or lip gloss. I don't know why but little girls especially love a tube of Lip Smackers chapstick!
Markers and/or Crayons.
A Yo-yo or a slinky. Usually, these can be found at your local dollar store.
Hot Wheels cars. A classic stocking stuffer you can find almost anywhere for a cheap price.
Finger puppets. I love this adorable, washable and very cheap finger puppets 12-pack, which you could wrap individually and between a few stockings for a great value.
Mittens. Let's face it, you're going to buy them anyway, and your little may be happier to wear them if Santa brought them.
Fluffy socks. Practical and fun. You can find these at your local dollar store.
Sidewalk Chalk.
Flashcards. Cards like these large alphabet cards are fun and of course educational. If you're lucky, sometimes you can spot some at DollarTree.
A Rubiks cube. Because they are sensory fun even if you can't solve them.
As long as you follow those tips and then just choose a few of these items, you'll be set!
And of course, balance it out with some candy, too. If you're trying to limit the candy you could always include healthier packaged snacks like whole grain Goldfish crackers, boxes of dried raisins, etc. They'll take up some space and be a nice treat.