What Time Does Trick-or-Treating Start?
As you start to make your Halloween plans, one question you'll likely have is, "What time can I start trick-or-treating on Halloween night?" Of course, the answer depends on your neighborhood and when the sun goes down, but in general, if you have small children, around 6 p.m. is the time to head out trick-or-treating.
Key Takeaways
When is Halloween 2022?
Halloween falls on Monday, October 31, 2022.
What time does trick-or-treating start?
Trick-or-treating usually starts when the sun goes down, but if you have small children, around 6 p.m. is the time to head out trick-or-treating.
Consider Your Specific Location
If you're in one of the few spots where your sunset is before 6 p.m, trick-or-treating begins even earlier, and you can head out as soon as the sun begins to set or around 5 p.m.
Consider Lingering COVID-19 Restrictions
Although it's unlikely in 2022, if you're still unsure if Covid restrictions are still taking place in your area, check your local news outlets for exact trick-or-treating times, as well as your city's most recent safety guidelines.
Consider Your Neighbourhood
On an even smaller scale, start times can also vary by neighborhood. Consider the ages of your neighborhood's kids, if your neighborhood has lots of other younger kids, things will get rolling well before sunset. However, if your neighborhood is older, and most of the few children on your block are pre-teens, the bulk of the trick-or-treating may happen after dinner time.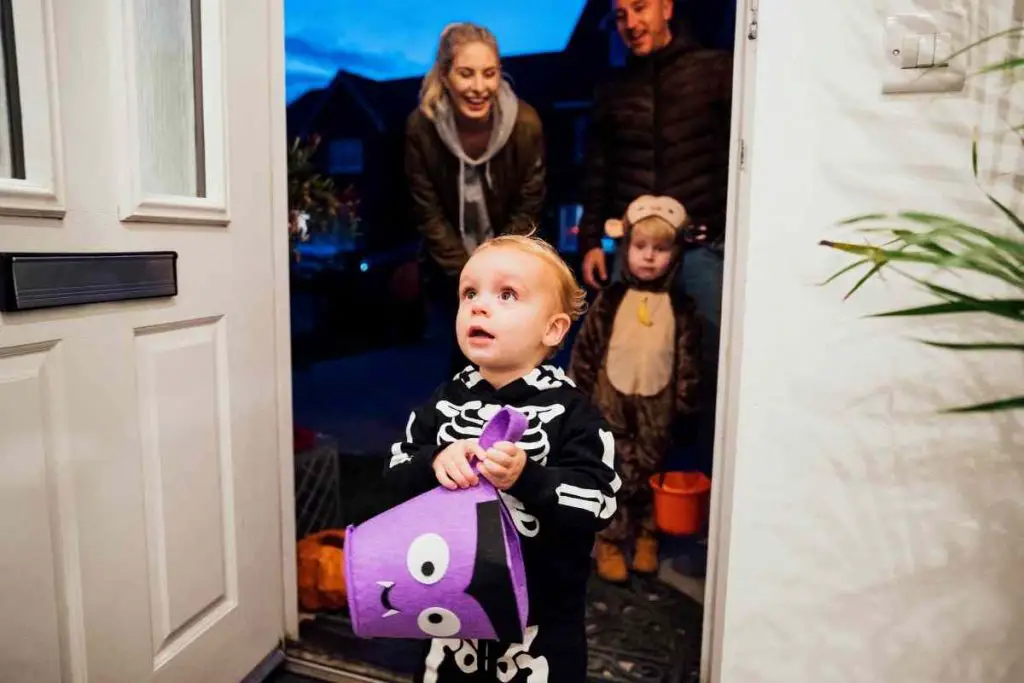 What if October 31 Falls on a Weekday?
Halloween falls on a Monday in 2022 so you may be wondering if you should go out that night, or the weekend before. Unless something special is being advertised in your community, trick-or-treaters are always expected on October 31, regardless if that date falls on a weekday, a Saturday, or a Sunday.
If you head out on any other day expect to be disappointed.
When it's time to say goodnight, turn off the light, blow out the pumpkins and stop answering the door to a few stragglers. You might have a few extra kids who won't get it, but most will get the message. A porch light is a universal signal that the house is open for trick-or-treaters.
How to Tell if a Home is Trick-or-Treat Friendly
Look for a (spooky) sign to show that a home is accepting trick-or-treaters before walking up.
A well-lit house is also a good indication of one that's welcoming kids. When a doorway is darkened it means that that house is not passing out candy.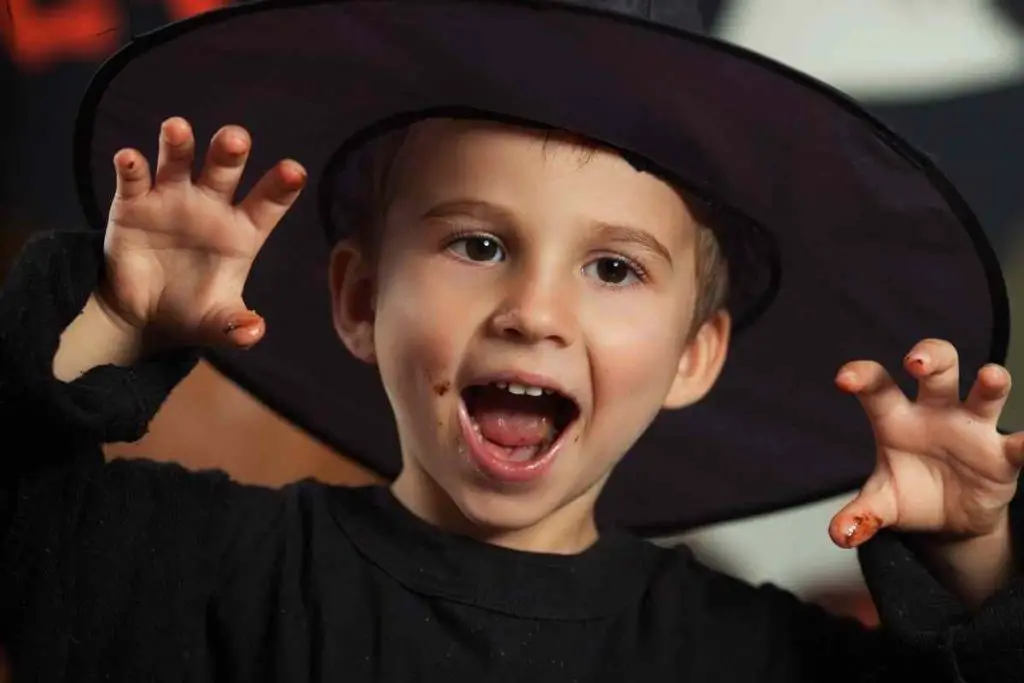 How Late Can You Go Trick-or-Treating?
If you're running behind schedule thanks to a wonky nap, shift work, dinner tantrums, or any of the millions of things that can make life with small children hectic, heading out around 8:30 pm would be about the latest opportunity.
Most homes will close up shop by 9 pm to avoid pranksters playing tricks on children or homes.
Luckily, with little ones, just a handful of homes is enough to make the night memorable, get them a sweet treat or two, and give them the trick-or-treating experience, so heading out just before 9 p.m and going to one or two homes is probably enough.
What are Some Other Halloween Activities Traditions if Trick-or-Treating is Out?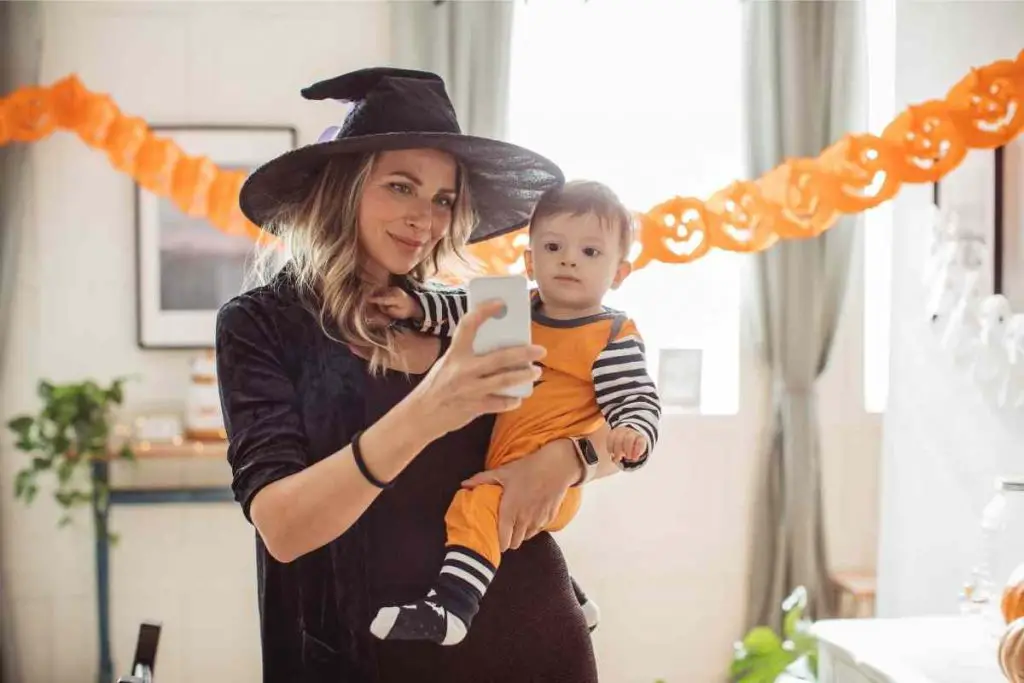 Maybe your little one is too excited and needs something to keep them occupied before they go trick-or-treating.
Maybe Covid 19 is lingering in your city and trick-or-treating is still being discouraged.
Or maybe trick-or-treating is just not happening for you this year (I've been there, standing at the door with my over-tired two-year-old, trying to get her to put on her costume when she just didn't want any of it)?
If any of those describe your situation, there are plenty of activities to keep the Halloween spirit going for your baby, toddler or preschooler:
Create a paper pumpkin. It doesn't take much to get a pumpkin craft going, just some orange and black construction paper, glue and some kid-safe scissors, or even just some plain paper and crayons. A last-minute pumpkin drawing session could be just what is needed, and you'll have a nice memento to replace that missing costume picture.
Make s'mores bar over candlelight. If you've got a jack-o-lantern with a candle in it, you've got the perfect place to melt some marshmallows for some special Halloween treats, s'mores!
Dress up yourself and get some fun costume pics!
Watch some "scary" movies (age-appropriate of course).
Put on some spooky tunes and have a Halloween dance party! With few exceptions, nothing will make a kid light up like the chance to dance with her favorite people. Throw on some kid's Halloween music, move to the beat and watch them light up.
Read a "spooky" story. An age-appropriate book read by flashlight is the perfect way to wind down and enjoy Halloween night. My favorite for the under-five crowd is Sesame Street's The Monster at The End of this Book, because it's silly and will get lots of repeat requests after Halloween is over too (check it out on Amazon here.)