Sometimes, the idea of creating a picture-perfect nursery can be stressful, especially when the clock is ticking. But preparing a space for baby should be a fun and creative process. Here's the inside scoop: your baby will love you no matter what color you paint the walls.
Between now and the time you meet your little one, there's a lot to do…and a lot to buy.  
When to Start Shopping for Baby
So, then when should you start buying stuff for baby? It's generally considered best to wait and not start buying stuff for your baby until weeks 13 to 21 of your pregnancy as the risk of miscarriage drops significantly after the first trimester (13 weeks) and if you're hoping to buy gendered items you can find out your baby's gender around 18 to 21 weeks into your pregnancy.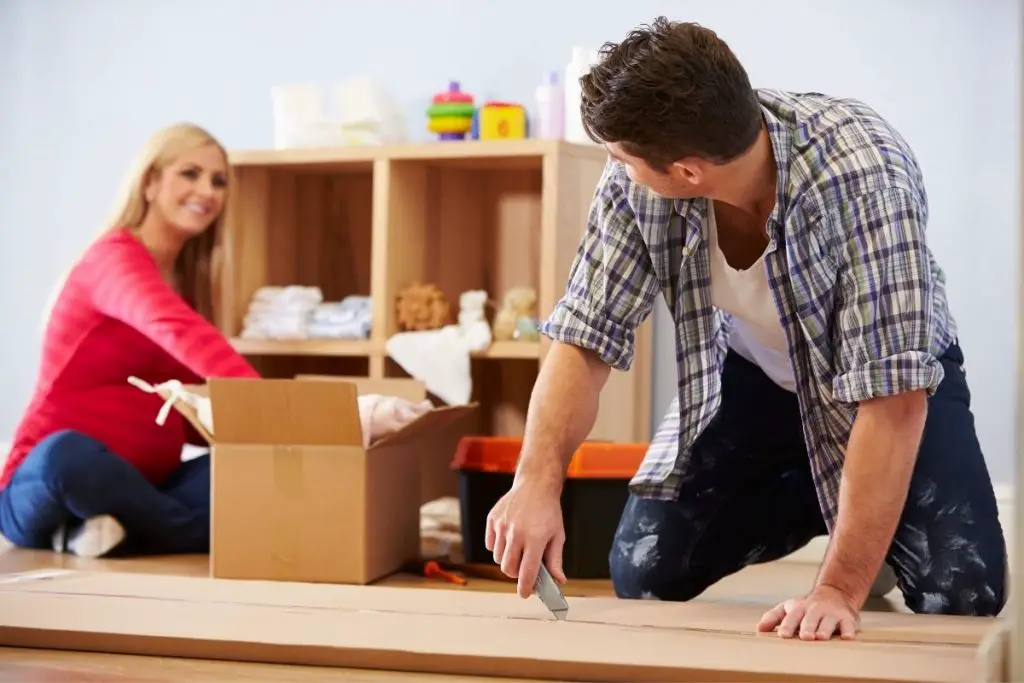 Is it Bad to Buy Baby Stuff Early?
Yes, it's the modern convention to wait until 13 weeks before you start buying baby stuff, and some cultures believe that shopping for baby stuff before getting pregnant is also bad luck. The reality is that these are just conventions to protect mothers from being further hurt if something happens to the pregnancy and it results in a miscarrage.
If you're the type of person who hates to wait don't let silly conventions like the 13 weeks rule prevent you from enjoying your pregnancy shopping. There's no such thing as the pregnancy police and no bad luck will befall you.
Just stick to gender-neutral items and buy items that if the unthinkable happens and this baby is an angel baby you're ok parting with them or storing them away for your rainbow baby.
Things to Consider Before You Start Buying Baby Stuff
Whether your baby's nursery is down the hall or if you're sharing a room with your new bundle, here are five important things to keep in mind when choosing nursery items:
Give yourself freedom: There is no wrong way to decorate your baby's nursery. It's fun to use Pinterest to create a nursery vision-board, but remember that time, financial, and space constraints will ultimately dictate a lot of the baby things you get in the end. Use photos as inspiration rather than must-haves.

Consider your budget: Avoid over-blowing the budget on baby gear and gadgets. Believe it or not, your baby will be a big kid sooner than you think. Save some of your budget for your growing child, who'll cost much more than baby. Accepting heirlooms and hand-me-down baby items is a great way to keep your budget in check during the baby phase when items (like bouncers, jolly-jumpers, swings etc.) are used for a very short time.

Plan the layout: Before you make your first purchase, measure your nursery space and write the measurements down. Keep them with you when shopping for furniture, paint, wall hangings, etc.

Shipping times: Let's face it, it's 2023 and online shopping is growing more popular than driving around and around to look at the few tiny baby aisles at your local stores. But with the convenience and selection of online shopping comes shipping times. Factor these in and make sure any online purchases are delivered several weeks before your due date.

Remember your baby shower (and sprinkles): Are you planning on having a baby shower or sprinkle? If so, setting up a baby registry for the items you want but not purchasing them until you see what your friends and family have gifted you at your baby shower is a good idea.
Duplicates can be a real problem in your third trimester when you'd rather be resting and nesting then making returns, so waiting until your baby shower has happened before you start buying baby gear can be a smart idea.
When Should I Start My Baby Registry?
If you're planning on a baby shower, starting a baby registry is a great way to start shopping for your baby early! You can never register for baby stuff too early.
After all, a baby registry is simply making a list of the specific baby supplies you want, which you can usually set to private until you're ready to share it with family and friends.
I highly recommend registry.com as it allows you to pull in items from many stores, not just one, including the big box stores so you have one place for your whole list of chosen baby items. This list is not only great for baby shower guests, but for you as well!
Don't know where to begin? Start by adding must-have baby nursery items to your registry as these are the big-ticket items that may require the most research.
What are the First Things to Buy for a Baby Nursery?
No matter what size nursery you have, the three biggest nursery items to consider are:
A place for baby to sleep.
Somewhere to change baby's diapers.
A storage solution to stash diapers, toys, and clothes.
Other items will of course need to be purchased for outside the nursery, like diapers, baby clothes, and a car seat. Each one of those items has it's own considerations as well.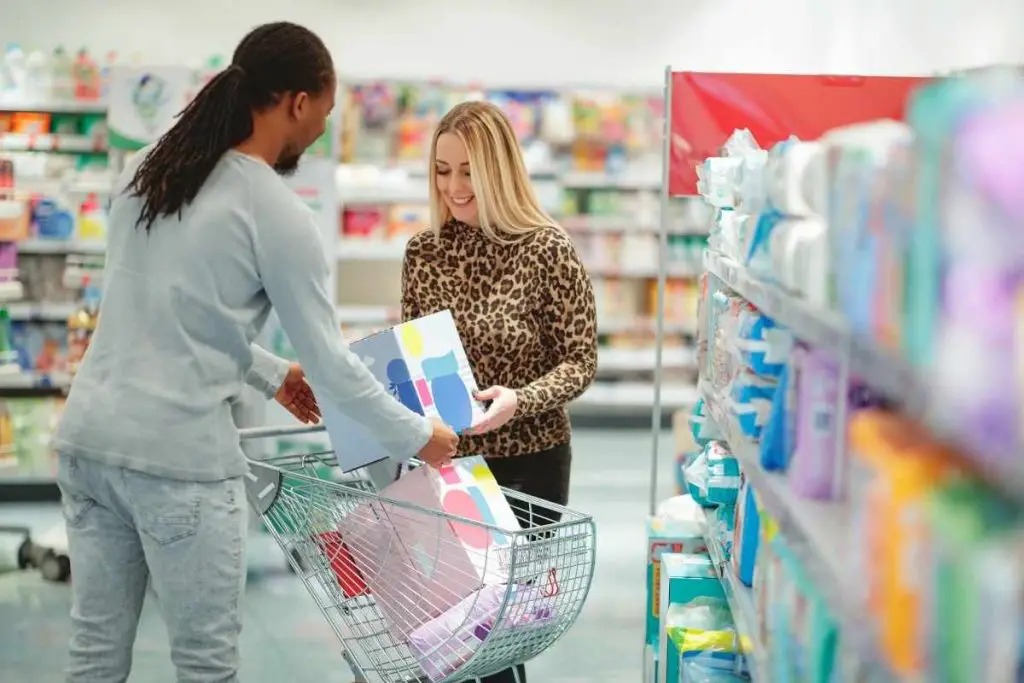 When Should I Start Buying Diapers and Wipes?
Every baby will need diapers, even if you're planning on using Elimination Communication.
If you're hoping to use cloth diapers, the decision process is a little more involved as there are many different diapering systems to choose from before you even consider brands. You can learn more about diapering systems in this video I made about it here. But you'll want to start your cloth diaper journey early because there;s a LOT of information to wade through and many parents get overwhelmed with it all if they start their research late.

Try not to get bogged down in all the inforamtion, read good resources like this 101 page, and start early.
If you plan on using disposible diapers, you'll still have some decisions to make, but it's really about what box you want. I have a disposible diaper guide to help you with choosing the best diaper for you here. If you receive lots of diapers from family and friends at your baby shower, a good tip is to not open the boxes but instead attach the receipt to the boxes for easy reference. Many times a baby will not stay in one size of disposible diapers long, or even fit in them at all, so you want to make sure you can return them if they're not needed.
As for wipes, whether you're using disposible or cloth you can never have too many and you'll find yourself using them for so many things other than diaper changes, so go ahead and start buying baby wipes early!
When Should I Start Buying Baby Clothes?
Buying baby clothes in advance is hard not to do, they are just so darn cute. Again, if you're the type of parent who enjoys gendered clothing, you may want to wait until you know the sex of your baby before purchasing baby clothes, just so that you don't have a bin full of tutu dresses when you give birth to your third son.
If this is your first child and don't have any idea how big your baby might be at birth (often your first baby or two will establish a pattern, but your first child is always a mystery) avoid buying a lot of newborn size clothing. Instead, buy those cute outfits in different sizes from newborn right up to 9-12 months. You'll be happy for the advance purchases when your baby goes through a sudden growth spurt and doesn't fit in anything they fit in yesterday.
When Should I Shop for a Car Seat?
I get it, on the list of baby gear to get a car seat is just about the most boring thing. But buying a car seat is actually one of the more difficult purchases, especially if you have a small or compact car (check out my full guide to finding a convertable car seat for your small car here).
A car seat is also the most essential purchase you'll make because many hospitals won't let you take baby home without one! Crazy, I know, but it's for the safety of babies in general.
Car seats do have expiry dates, so you may want to wait until those initial 13 weeks are up before making a purchase, but having an infant car seat on hand early will be vital if you give birth prematurely, so don't wait too long!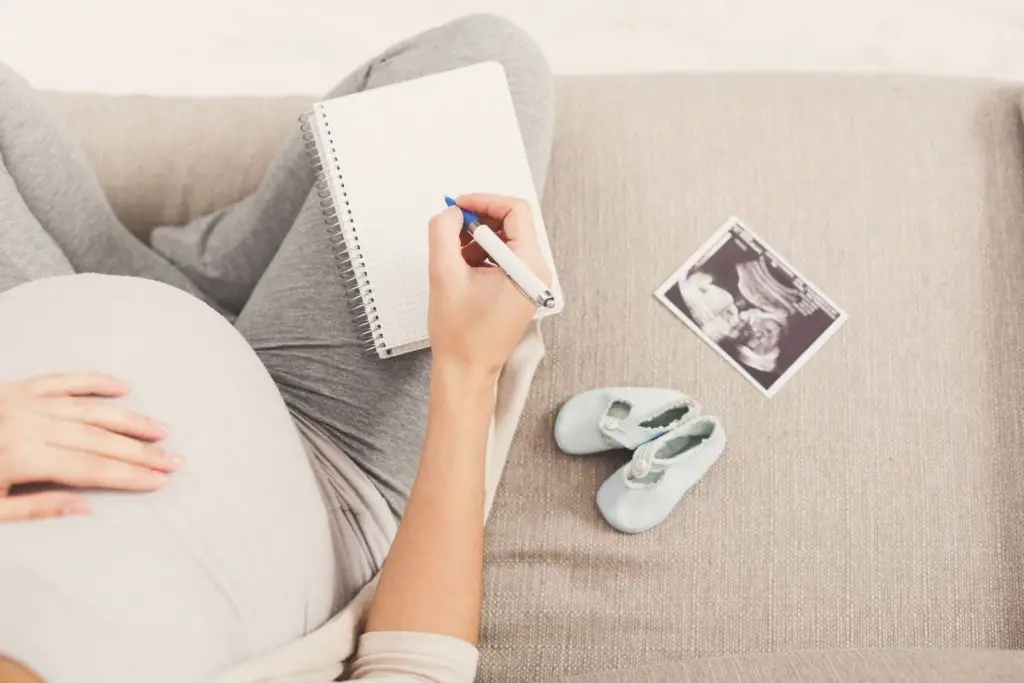 Where Can I Find a Baby Needs Checklist?
When you're ready to start buying baby stuff the amount of things can quickly get overwhelming and make you hold off on buying anything (that's what happened to me, I can still remember running out of the local Baby's R Us bewildered).
A good way to prevent a pregnancy planner, like this inexpensive one I found on Amazon, or even a free online baby registry checklist, like this one over on Registry.com.
Armed with your nursery measurements, your plan, and your checklist, I hope you'll have a fun and enjoyable time as you start buying baby stuff for your little one.
Happy Nesting!